Lionsgate's Dirty Grandpa is the week's highest new entry with seven-day $2.9m (£2.05m) debut, while eOne's Spotlight posts the highest Fri-Sun site average of the top ten.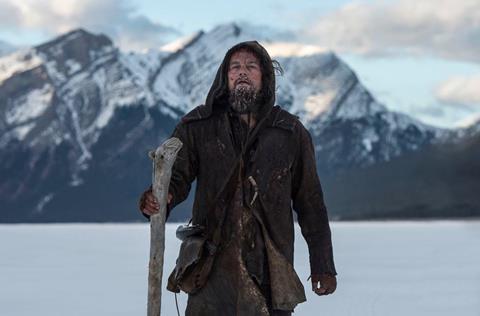 FOX
Seeing off a busy field of new releases, The Revenant recorded a hat-trick as the number one film at the UK box office.
Fox's awards contender fell a respectable 41% on its way to a non-final $3.2m (£2.3m) for a strong $22.9m (£16.1m) to date. It should be nearing £20m by the end of this coming weekend.
Even as the market gets busier with the likes of Dad's Army, Deadpool, Goosebumps and Zoolander 2 over the coming weeks, The Revenant should continue to prosper as counter-programming, especially if it triumphs at the BAFTAs and Oscars.
Also for Fox, Snoopy And Charlie Brown: The Peanuts Movie added a non-final $341,000 (£239,389) for $13.7m (£9.6m) to date. It will hope to stick around in order to get a little boost during the school half-term in mid-February.
Joy and Bridge Of Spies have amassed $7m (£4.94m) and $11m (£7.72m), respectively.
LIONSGATE
Despite a critical mauling, Dirty Grandpa charted second on its UK bow.
Lionsgate's comedy scored an overall non-final debut of $2.9m (£2.05m) from its 424 sites, but that does include $863,000 (£604,672) from four days of previews. However, its Fri-Sun tally of $2.1m (£1.44m) would have also seen it chart second.
Dirty Grandpa achieved a healthy site average over Fri-Sun of $4,858 (£3,402), and now it's just a case of whether its bad reception will impact on its longevity.
DISNEY
Star Wars: The Force Awakens continued its astonishing run at the UK box office with just a 34% drop in its seventh weekend.
Disney's record-breaking juggernaut grossed an extra $1.9m (£1.34m) and is still playing in 552 sites. Its mammoth running total now stands at $170.9m (£119.4m) and it will hit £120m this week.
Also for Disney, The Good Dinosaur is up to $20m (£13.95m) following a $186,000 (£130,000) tenth weekend.
UNIVERSAL
Ride Along 2 enjoyed a $1.87m (£1.3m) second weekend at the UK box office.
Universal's comedy sequel stands at $6m (£4.2m) after ten days in play and has already surpassed the $5.9m (£4.14m) result of its predecessor.
Also for Universal, The Danish Girl has grossed $9.8m (£6.87m) after five weeks in play.
EONE
Spotlight got off to a highly promising start at the UK box office as it rounded off this week's top five.
eOne's critically acclaimed drama posted a $1.5m (£1.06m) debut from its 241 sites for a superb $6,260 (£4,380) site average, the highest in this week's top 10 based on Fri-Sun. With its older-skewing audience, Spotlight should enjoy strong midweek returns.
With all of this year's Best Picture nominees now opened, Spotlight is sixth in terms of openings just ahead of Brooklyn's $1.48m (£1.04m). However, Room aside, it opened in the fewest amount of sites.
PARAMOUNT
The Big Short posted a slim drop on its way to a $1.4m (£958,000) second weekend.
Paramount's awards contender is now up to $4.3m (£3.03m) and will hope to post a final tally similar to fellow Oscar contender Bridge Of Spies, which currently stands at $11m (£7.72m).
Also for Paramount, Capture The Flag recorded a UK debut of $1.1m (£775,000), including $393,000 (£275,000) in previews, from its 458 sites. The animation will look to prosper in the upcoming half term.
Daddy's Home took a further $858,000 (£600,000) for a terrific $23.4m (£16.35m) after six weeks in play, while 13 Hours: The Secret Soldiers Of Benghazi posted one of Michael Bay's lowest-ever UK bows with $340,000 (£238,000) from its 307 sites.
WARNER BROS
In its third weekend, Warner Bros' Creed posted another big drop of around 50% on its way to $829,000 (£581,000) for $7.6m (£5.31m) to date.
Also for Warner Bros, real-life mining drama The 33 could only manage a $37,000 (£26,208) UK debut from its 103 sites.
STUDIOCANAL
In its third weekend, Studiocanal's Room added $528,000 (£367,494) for $3.7m (£2.58m) to date. The distributor will hope Brie Larson's expected BAFTA and Oscar wins can keep the run going a few weeks longer.
Also for Studiocanal, Youth has achieved director Paolo Sorrentino's best-ever UK debut with $381,000 (£265,249), including previews, from its 105 sites.
That's ahead of The Great Beauty's $167,000 (£117,042), although that was from just 25 sites.
The Assassin has grossed $206,000 (£143,393).
SONY
Unsurprisingly struggling following its somewhat soft opening, Sony's The 5th Wave added $214,000 (£150,000) for a ten-day tally of $1.2m (£870,000).
SODA PICTURES
From its six sites through Soda Pictures, Innocence Of Memories posted a UK bow of $15,000 (£10,669). It's worth noting that the film wasn't playing full showtimes each day across the weekend.
UPCOMING RELEASES
This week sees saturation releases for Sony's Goosebumps (following previews this past weekend), Warner Bros' Point Break and Universal's Dad's Army.
eOne's Trumbo receives a wide release, while Soda Pictures' Rams, Dogwoof's Janis: Little Girl Blue and Anime Ltd's Miss Hokusai are among the films receiving a limited release.