AUG 22 UPDATE: Illuination Entertainment's latest posts biggest debut (excluding previews) for an original animation in Russia with $16.3m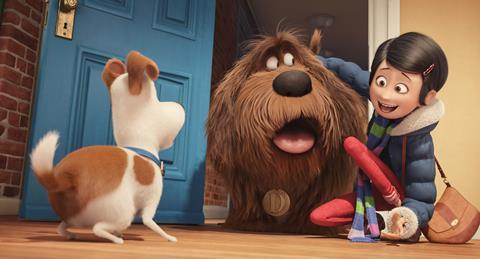 UNIVERSAL PICTURES INTERNATIONAL
UPDATE: Powered by a huge, record-breaking $16.3m bow in Russia, The Secret Life Of Pets hopped to $43.8m from its 55 territories for $327.2m overseas.
The Russian debut marked the biggest opening weekend ever (excluding previews) for an original animated film, while the film also made waves in Poland and Latvia with the year's biggest opening in the market with $965k and $224k, respectively.
Holdover-wise, Japan retained the top spot for the second straight week with $3.6m for $22.9m, China added $3.1m for $55.6m and France boosted 12% with a $2.5m fourth weekend and a local tally of $18.4m.
Illumination Entertainment's The Secret Life Of Pets has ten more territories to open, starting with Brazil, Indonesia and the Philippines next weekend.
Jason Bourne powered to an extra $11.2m from its 61 territories for $137.9m internationally, with France the top holdover at $2.2m for $6.6m after 12 days in play. It opens in China and Mexico next weekend.
Blumhouse Productions and Platinum Dunes' The Purge: Election Year grossed $1.7m from its 18 territories for $23.3m. The threequel charted third in Mexico with the series' best opening of $1.5m, and lands in the UK next weekend.
Kubo And The Two Strings, from Laika Entertainment, opened in eight territories for a $957k debut, more than half of which came from its $519k bow in Australia. It opens next weekend in Bolivia, Cyprus, Ecuador, Malaysia, the Netherlands, Peru and Spain.
Central Intelligence now stands at $83.2m ahead of its final four releases next weekend: Belgium, France, French-Switzerland and Venezuela.
WARNER BROS PICTURES INTERNATIONAL
UPDATE: In its third weekend of release, Suicide Squad crossed the $300m mark at the international box office with $40.3m from its 64 markets for $313m so far.
The DC Entertainment adaptation opened in Germany with a chart-topping $6.9m and a 50% market share of the top five films, while its leading holdover came in Brazil as it retained the top spot with $3.5m for $28.3m.
Suicide Squad's leading overseas market to date is the UK which added $3.3m for $36.2m after three weeks in play. Australia retained the top spot with $2.4m for $21.1m and both Mexico and France grabbed $2m for $23.6m and $15.1m, respectively.
Scaring up $1.5m in the UK, Lights Out creeped to an additional $7.8m from its 45 territories for $46.4m to date.
New Line's horror also opened in Spain with $1.1m to chart second and posted a $888k bow in Brazil from 269 screens, achieving the highest admissions per screen average of the top five films. It opens in France and South Korea next weekend.
Starting its international rollout in 31 markets, War Dogs shot to $6.6m from 2,661 screens. Russia led the way with $1.9m and Australia provided $1.1m, ahead of its release in the UK next weekend.
CHINA
In its second weekend, Media Asia's police thriller Line Walker grossed an estimated $16.5m from its six territories for $71.5m to date, according to ComScore.
Animation New Happy Dad And Son 2 and posted a $7.6m debut, while Bazelevs' Russian fantasy On - Drakon recorded a $7m bow.
Le Vision Pictures' Time Raiders added $6.1m from its three territories for $136.5m to date and Zhao Tianyu's fantasy romance Love O2O took $6.1m for $33.5m so far in China.
From its four territories, Universe Films Distribution's period action film Call Of Heroes took $3.8m for $23.6m after two weeks.
PARAMOUNT PICTURES INTERNATIONAL
UPDATE: Led by a $5.6m debut in South Korea, Star Trek Beyond phased to $11.3m from its 34 markets for $84.2m so far.
The latest mission for the USS Enterprise crew also landed in France with $2.1m from 603 sites and Spain with $978k from 407 sites.
Riding into 23 overseas markets day-and-date with North America, Ben-Hur posted an international debut of $10.7m.
Paramount-MGM's remake charted top in four markets, including Mexico with $2.7m, while it recorded a $2.2m bow in Brazil and $992k in Venezuela. It opens in Australia, Argentina and the Netherlands next weekend.
Forum Film distributes the film in Poland, Romania, Bulgaria, Hungary and Israel.
SOUTH KOREA
In its second weekend, Showbox's The Tunnel travelled to an estimated $9.6m for $37m to date, according to ComScore.
Lotte Entertainment's historical melodrama The Last Princess posted a $4.3m third weekend for $34.5m.
SONY PICTURES RELEASING INTERNATIONAL
Ghostbusters captured $7.9m from its 4,700 screens for $84.2m overseas, propelled by a preview-boosted $4.3m opening in Japan from 694 screens.
Mexico led the holdovers with $1.1m for $5m after two weeks in play, while it posted second weekends of $765k and $415k in France and Spain, respectively, for $2.8m and $2.2m. Paul Feig's reboot opens in South Korea next weekend.
Debuting in 24 new territories, The Shallows bit into another $6.3m from its 59 markets for $30.1m.
Its top new openings came in France with $1.5m from 268 screens and Australia with $1.3m from 227 screens. Ahead of its debuts in Brazil, Germany and Italy, the single-location thriller added $530k in the UK for a local tally of $2.3m.
Sausage Party held well with a $2.1m second overseas weekend from its 13 markets for an early $6m. Australia fell only 27% on its way to a $1.4m second weekend for $4m to date.
WALT DISNEY STUDIOS MOTION PICTURES INTERNATIONAL
With no new openings, Finding Dory swum to $6.7m from its 22 territories for $437.2m so far overseas.
In the UK, it reclaimed top spot with a $3.6m fourth weekend (a boost of 9%) for a local tally of $42.3m, while it fell 33% in Japan with $1.9m for $58.5m to date. It opens in Denmark, Finland, Norway and Sweden next weekend.
Pete's Dragon flew to a $5.7m second overseas weekend from its 17 territories for $14.2m to date.
The remake opened with $1.8m and more than 240k admissions in France, while it delivered strong holds in the UK (down only 1% for $3.1m to date) and Italy (down 17% for $2.8m). It lands in seven new territories next weekend, including Germany.
In its final market of Japan, The Jungle Book added $2.1m for $13.7m after 11 days in play, and now stands at $592.3m internationally.
FOX INTERNATIONAL
UPDATE: Ahead of China opening on Tuesday [Aug 23], Ice Age: Collision Course took $4.1m from its 63 markets for $254.8m. It boosted 16% in France on its way to a $982k sixth weekend for $21.4m to date.
As well as China, Collision Course also opens in Italy tomorrow [Aug 22]..
Partying to $713k in France from 197 screens, Mike And Dave Need Wedding Dates added $2.4m from its 30 markets for an early $18.8m. The R-rated comedy opens in Argentina and Norway next weekend.
Absolutely Fabulous: The Movie grossed $1.1m from its six markets, including a $140k opening in Finland, to lift its overseas tally to $29.2m.
X-Men: Apocalypse and Independence Day: Resurgence stand at $387.3m and $280.9m, respectively.
STX ENTERTAINMENT
Bad Moms grossed an estimated $3.9m from its 33 markets for $20.6m to date overseas and $106.4m worldwide.
The R-rated comedy opened in the likes of South Africa ($143k from 65 sites) and Croatia ($173k from 31), while Australia took $1.84m for $5.89m after two weeks. It opens in the UK and Mexico next weekend.
LIONSGATE INTERNATIONAL
Now You See Me 2 conjured up $2.1m from its 61 markets for $255.8m so far, after opening in Argentina with $348k from 102 screens. It opens in Germany next weekend.
With a soft $70k debut in Sweden, Nerve added $1.3m from its 29 markets for an early $6.8m, ahead of it landing in France, Brazil and Denmark next weekend.