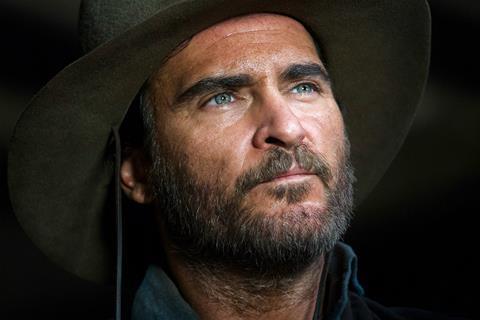 Jacques Audiard's dark comedy western The Sisters Brothers, co-starring John C. Reilly and Joaquin Phoenix, won best film and best director at the 24th edition of France's Lumière awards on Monday evening.
In a third prize for Audiard's English-language debut, Benoît Debie, who was also nominated for his work on Gaspar Noé's Climax, 
won best cinematography.
The Sisters Brothers was a front-runner at the nomination stage alongside comedy of manners Mademoiselle de Joncquières, adoption drama Pupille and Venice-winning divorce drama Custody although there were no stand-out favourites this year.
It is only the second time an English-language film has won best film in the awards focused on French cinema, after Luc Besson's English-language epic The Messenger: The Story Of Joan of Arc in 2000.
Emmanuel Mouret's Mademoiselle de Joncquières went home empty-handed but Pupille won best actress for Elodie Bouchet, for her performance as a single woman trying to adopt a baby born to an anonymous mother.
It is the second time she has scooped the best actress Lumière, having won the prize in 1999 for her performance in Erick Zonca's The Dreamlife Of Angels.
"It's a bit like being in the World Cup, 20 years later I win it again," she quipped, referring to France's Soccer World Cup victory last year after a 20-year gap.
Xavier Legrand's tough divorce drama Custody won best first film.
Other winners of the evening were Alex Lutz's comedy-drama Guy, about a man who discovers he is the secret son of a forgotten pop star and decides to seek him out.
The 40-year-old director and comedy actor Lutz won best actor for his performance as the ageing star, for which he transformed himself into a 74-year-old man.
There were also tributes over the course of the evening to Jane Birkin, presented by Belgian director Marion Hansel, who directed her in the 1985 Venice best first film prize winner Dust.
The ceremony also paid tribute to Claude Lelouch's 1966 Palme d'Or, Oscar and Golden Globe-winning classic A Man And A Woman, co-starring Anouk Aimée and Jean-Louis Trintignant as two hesitant lovers overcoming personal tragedies. Taking to the stage with Aimée, Lelouch talked about his upcoming film Les plus belle années d'une vie, reuniting him with Aimée and Trintignant and revisiting their characters of Anne Gauthier and Jean-Louis Duroc half a century later.
"I must be the only director in the history of cinema to have returned to the set with the same actors some 52 years later," said Lelouch. "It's the culmination of the films I've made, and the film I've always wanted to make and I can't wait to show it on the big screen soon."
In total 37 titles were in the running for a prize, out of the 130 French films that were released theatrically in France during the selection period. The awards - which are voted on by 80 members of the international media community in France - are regarded as the country's equivalent of the Golden Globes.
The next date on the French awards season calendar is the César ceremony on March 2, 2018. For six out of the last 10 years, the Lumières and Césars have awarded the same film with the best film prize, including last year when they both feted BPM and 2017 when Elle won.
The full list of awards
Best film
The Sisters Brothers, dir. Jacques Audiard
Best director
Jacques Audiard, The Sisters Brothers
Best actress
Elodie Bouchez, Pupille

Best actor
Alex Lutz, Guy
Best screenplay
Pierre Salvadori, Benoît Graffin and Benjamin Charbit, The Trouble With You
Best cinematography
Benoît Debie, The Sisters Brothers
Best male newcomer
Félix Maritaud, Sauvage

Best female newcomer
Ophélie Bau, Mektoub My Love
Best first film
Custody, dir. Xavier Legrand

Best film from French-speaking territories
Girl, dir. Lukas Dhont
Best feature animation
Dilili à Paris dir. Michel Ocelot
Best documentary
Samouni Road, dir. Stephano Savona
Best music
Vincent Blanchard and Romain Greffe, Guy