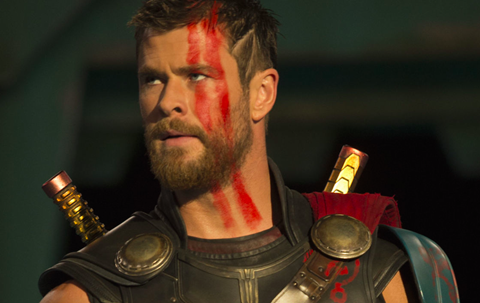 Marvel Studios' imminent thunder-clap that is Thor: Ragnarok will touch down in roughly 50% of the international arena this week, led by early forays in the UK, Australia, France and other key European markets.
The Chris Hemsworth starrer lands first in the UK on Tuesday, followed a day later by France, Italy, South Korea, Belgium, Poland, Switzerland, Indonesia, Philippines, and Taiwan.
Thursday brings launches in Australia, Brazil, Denmark, Netherlands, Portugal, Hong Kong, Malaysia, New Zealand, Singapore, Argentina, Panama, Uruguay, Paraguay, Chile, and Colombia.
Thor: Ragnarok rounds out a busy week with debuts on Friday in Spain, Sweden, Norway, South Africa, Turkey, Vietnam and Iceland.
Thor: The Dark World opened in the same bucket of markets at today's exchange rates on $79.9m, while Guardians Of The Galaxy Vol. 2 achieved $102.8m, Doctor Strange $88.1m, and Captain America: Winter Soldier $67.3m.
Beyond the initial wave, the film is scheduled to open in Germany on October 31, Russia and Mexico on November 2, and China, India, and Japan day-and-date with the US on November 3, by which time it will be open in virtually the entire marketplace.
Taika Waititi directed from a screenplay by Eric Pearson, and Craig Kyle and Christopher L. Yost. Kevin Feige served as producer, and executive producers are Louis D'Esposito, Victoria Alonso, Brad Winderbaum, Thomas M. Hammel, and Stan Lee.
Starring alongside Hemsworth are Tom Hiddleston, Cate Blanchett, Idris Elba, Jeff Goldblum, Tessa Thompson, Karl Urban with Mark Ruffalo and Anthony Hopkins.
Thor: Ragnarok finds the titular hero in chains and without his hammer as Asgard is threatened on the other side of the universe. The only way for the god of thunder to escape is to fight his former ally and fellow Avenger, The Hulk.