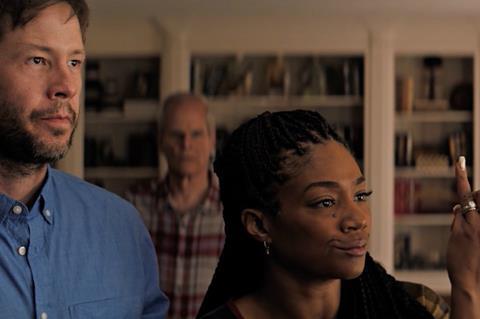 Roadside Attractions and Topic Studios have partnered on North American rights to dark comedy The Oath starring Tiffany Haddish and Ike Barinholtz.
The film from QC Entertainment and first time director Barinholtz and David Stassen's 23/34 Productions centres on a married couple who hold two federal agents captive over the Thanksgiving holidays.
Barinholtz write the screenplay and the cast includes John Cho, Carrie Brownstein, Billy Magnussen, Meredith Hagner, Jon Barinholtz, Nora Dunn, and Chris Ellis.
Sean McKittrick and Ray Mansfield of QC Entertainment are producing The Oath with Barinholtz and David Stassen of 23/34 Pictures, and Andrew Robinson of Aperture Media Productions. Haddish served as an executive producer along with QC's Edward H. Hamm Jr. and Kristen Murtha.
Roadside has targeted an autumn release. Howard Cohen and Ryan Heller negotiated the deal for Roadside Attractions and Topic Studios, respectively, with UTA Independent Film Group and QC.
"Ike's hilarious directorial feature debut reinvents the holiday comedy for our times," Cohen and d'Arbeloff said. "He and Tiffany make one of the greatest on-screen couples we've seen, and their family Thanksgiving troubles will have audiences laughing at our uncertain political madness without checking their intelligence at the gate."
"We are thrilled to partner with Roadside Attractions to bring The Oath to audiences everywhere," Topic's Adam Pincus said. "Ike's film flips the traditional Thanksgiving table into a sharp, entertaining statement that's all too relatable given the times we find ourselves in."
"We knew immediately in talking to Ike and reading his screenplay that The Oath was tapping into something special in a very original way," McKittrick and Mansfield said. "We're excited that Roadside Attractions and Topic Studios share our passion for bold storytelling and releasing the film in theatres for audiences to discover together."