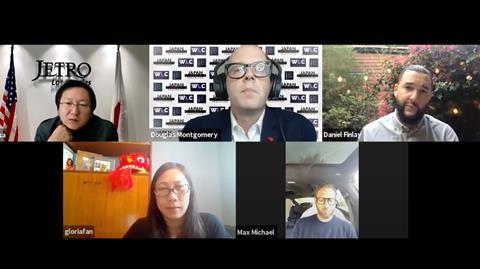 Japanese film and TV content, in particular anime, has been reaching new international audiences during the era of Covid-19 lockdowns and growing steaming consumption, according to several speakers at this week's TIFFCOM Online (November 4-6).
On the first day of the market, Crunchyroll general manager Joanne Waage said the WarnerMedia-owned anime streaming service has already achieved its projected year-end figures of 3 million subscribers and 70 million registered users.
"During Covid times, the streaming business has been resilient as people have been home more, looking for entertainment and escapism, and exploring new things. One of those things has been anime and we've seen significant growth across the board from AVOD to new subscribers," Waage said.
She added that awareness of anime outside Asia had already been growing before the pandemic, but is now going mainstream, especially among the Gen Z and Millennial audience, who have been introduced to adult drama animation through video games: "It doesn't feel unfamiliar to this new generation."
Waage also explained how being part of the WarnerMedia stable is helping widen the audience for anime as Crunchyroll is now co-producing with Cartoon Network and working on a curated collection of anime content for HBO Max.
In a presentation on TIFFCOM's second day, Robert Early, head of Amazon Prime Video Japan, talked about how the streamer's Japanese-language content is finding an audience overseas. Recent breakouts have included Isao Yukisada's Theatre: A Love Story, which premiered simultaneously on Amazon and in Japanese arthouse cinemas in July; Hitoshi Matsumoto's game show Documental, which has been adapted in Australia, Germany and Mexico; and Koki Mitani's comedy series Peep Time.
Commenting on the streaming premiere of Theatre: A Love Story, Early said: "Isao Yukisada originally directed this film for the big screen, so it was not an easy decision for him. But we observed that some customers who watched the movie on Prime watched it again in cinemas, and the other way round. It also had a great response, not only in Japan, but all around the world."
In a panel today (Nov 6) about the new normal in Hollywood, co-hosted by JETRO and UniJapan, WarnerMedia vice president Doug Montgomery said the growth in streaming is giving Japanese content creators more opportunity than ever to reach a global audience. "In the past few years, Asian-themed content has been doing better and better; Parasite winning Academy Awards is a big deal," said Montgomery, who is also founder of the Japan Connects Hollywood film festival, which took place virtually last week.
"The fact is that now all these platforms are offering [Asian] content globally and people are discovering it in lots of different ways. The pandemic won't harm the influence of Japanese content around the world, it just accelerates what was happening before. Japanese content providers just need to jump on the train."
But the speakers agreed that anime has the most obvious export potential as it already has a global fanbase and production schedules have not been affected by the pandemic. "Anime outperforms so many other content forms, and since Covid, there's been a huge ramp up of streaming platforms buying anime content," said UTA head of Asia Business Development, Max Michael.
He also observed that there's been a big increase in buyers as so many global streamers have launched during the pandemic. "Netflix has pushed aggressively into international markets and we'll see the other younger streamers – HBO Max and Apple – doing the same thing," said Michael. "Don't just call the local Netflix Japan office because they're no longer the only shop in town."
None of the speakers were writing off theatrical and said they were encouraged by the big box office numbers achieved in Japan and China since cinemas reopened, which suggest audiences are prepared to return to theatres as soon as it's safe. "But the middle has fallen out [for theatrical movies] and that gap is getting wider," said Chernin Entertainment director of development Dan Finlay. "It will just be low-budget films and giant blockbusters in future, with fewer movies each weekend because box office is shrinking in general."
In his TIFFCOM keynote, Paramount Pictures chairman and CEO, Jim Gianopulos, also spoke of a continued commitment to theatrical, but admitted that the definition of a theatrical movie has changed.
"We've found news ways of reaching audiences through SVOD platforms which will continue for some kinds of films and TV production even after the pandemic has passed," said Gianopulos, who had earlier noted that The SpongeBob Movie: Sponge On The Run will premiere on Paramount's new streaming service in early 2021. "We view these expanding media as complementary to the theatrical experience.
Other sessions during the three-day market included the MPA/DHU/TIFFCOM masterclass with VFX producer Thomas M. Horton, who talked about his journey from being a commercials producer to working on high-end films and TV, such as The King's Speech and Brave New World, adapted from the Aldous Huxley novel. Streaming on NBCU's Peacock service, Brave New World was filmed in Wales, where Horton had also worked on Da Vinci's Demons.
"There's not much in Wales that looks like 200 years in the future, so the challenge was to build this city, which in the book is built by AI, while being cognitive of not just making it a hybrid of all the sci-fi and cities that we love," Horton said.