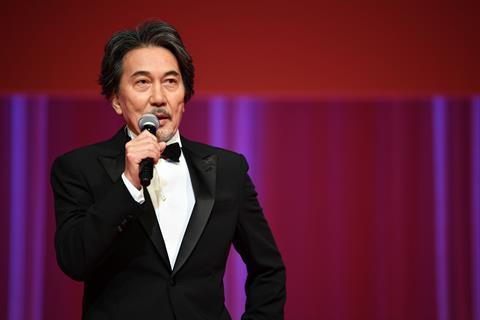 Tokyo International Film Festival (TIFF) opened with a physical ceremony on Saturday (October 31) and video messages of support from global industry figures such as Robert De Niro and Christopher Nolan.
Nolan commented: "The fact that in these challenging times you've found a way to honour and enjoy watching films on the big screen is a source of inspiration to myself and other filmmakers around the world."
De Niro said: "We hope TIFF will be a big, big success and we know it will be. Omedeto gozaimasu!" Cannes Film Festival director Thierry Fremaux and Thai auteur Apichatpong Weerasethakul also sent video messages of congratulations and support. Like last week's Busan film festival, TIFF is managing to hold a festival with physical screenings, but no international guests due to Covid-19 travel restrictions.
On the ground, the opening ceremony featured an indoor red carpet at the TIFF Forum in Hibiya, with photo shoots separated by plexiglass dividers. Japanese stars in attendance included this year's TIFF ambassador Koji Yakusho, Mariko Tsutsui and Win Morisaki, who both star in films from TIFF Director in Focus Koji Fukada, and the stars of TIFF opening film Underdog, Takumi Kitamura and Kumi Takeuchi.
Filmmakers on the red carpet included Fukada and directors with films in Tokyo Premiere 2020 such as Akiko Ohku (Hold Me Back), Akio Fujimoto (Along The Sea), Edmund Yeo (Malu) and Lim Kah Wai (Come And Go), with Malaysia-based Yeo and Lim both making an appearance after a two-week quarantine.
Tokyo Premiere 2020 is replacing the festival's competition sections in a year when it would have been difficult to invite international jury.
TIFF will continue with physical screenings and in-person Q&As until November 9. Some other events are taking place online, including the 'Asia Lounge' Conversation Series, featuring filmmakers such as Apichatpong, Jia Zhangke, Hirokazu Kore-eda and Kiyoshi Kurosawa.
TIFFCOM, the film and TV contents market that accompanies TIFF, is taking place as a virtual event this week (November 4-6).