Maren Ade's comedy received five nominations, Ken Loach's I, Daniel Blake received four.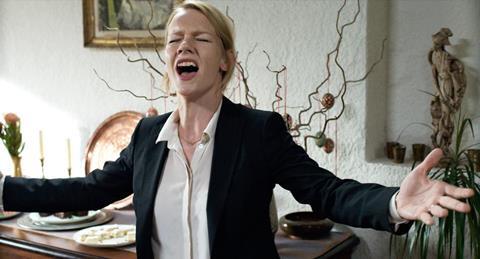 A quartet of films that premiered in competition at Cannes Film Festival dominate this year's European Film Academy Awards nominations, which were revealed this morning at the Seville European Film Festival.
Acclaimed Germany comedy Toni Erdmann was nominated for five prizes: best film, best director, best screenplay, best actress and actor.
Palme d'Or winner I, Daniel Blake scored four nominations, including best film, best director for Ken Loach, best screenplay for Paul Laverty and best actor for Dave Johns.
Pedro Almodóvar's Julieta received three nominations (best film, best director and best actress for Emma Suárez and Adriana Ugarte jointly) as did Paul Verhoeven's Elle (best film, best director and best actress for Isabelle Huppert).
More than 3000 EFA members will now vote for the winners.
The awards will be handed out at the 29th annual ceremony in Wroclaw (Poland), European Capital of Culture 2016, on December 10.
As announced previously, actor and producer Pierce Brosnan will be at the ceremony to receive the honorary award for European Achievement in World Cinema. The Lifetime Achievement Award will be awarded to screenwriter Jean-Claude Carrière.
The nominees are:
EUROPEAN FILM 2016
Toni Erdmann, dir Maren Ade (Germany/Austria)
Elle, dir Paul Verhoeven (France/Germany)
I, Daniel Blake, dir Ken Loach (UK/France)
Julieta, dir Pedro Almodóvar (Spain)
Room, dir Lenny Abrahamson (Ireland/Canada)
EUROPEAN DIRECTOR 2016
Maren Ade for Tony Erdmann
Pedro Almodóvar for Julieta
Ken Loach for I, Daniel Blake
Cristian Mungiu for Graduation
Paul Verhoeven for Elle
EUROPEAN ACTRESS 2016
Valeria Bruni Tedeschi for Like Crazy
Trine Dyrholm for The Commune
Sandra Hüller for Toni Erdmann
Isabelle Huppert for Elle
Emma Suárez & Adriana Ugarte for Julieta
EUROPEAN ACTOR 2016
Javier Cámara for Truman
Hugh Grant for Florence Foster Jenkins
Dave Johns for I, Daniel Blake
Burghart Klaußner for The People Vs Fritz Bauer
Rolf Lassgård for A Man Called Ove
Peter Simonischek for Toni Erdmann
EUROPEAN SCREENWRITER 2016
Maren Ade for Toni Erdmann
Emma Donoghue for Room
Paul Laverty for I, Daniel Blake
Cristian Mungiu for Graduation
Tomasz Wasilewski for United States of Love
EUROPEAN FILM ACADEMY DOCUMENTARY 2016
21 X New York, dir Piotr Stasik (Poland)
A Family Affair, dir Tom Fassaertt (Netherlands/Belgium)
Fire At Sea, dir Gianfranco Rosi (Italy/France)
Mr Gaga, dir Tomer Heymann (Israel/Sweden/Germany/the Netherlands)
S Is For Stanley -30 Years At The Wheel For Stanley Kubrick, dir Alex Infascelli (Italy)
The Land Of The Enleightened, dir Pieter-Jan De Pue (Belgium/Ireland/the Netherlands/Germany)