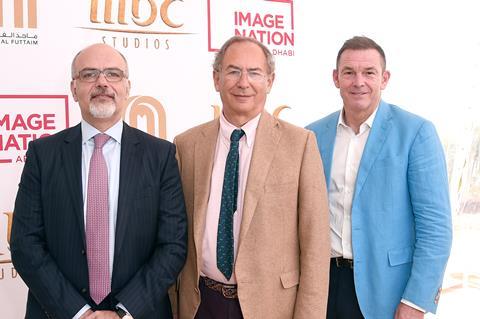 Top Gulf companies Image Nation Abu Dhabi, Majid Al Futtaim and MBC Studios have announced a new alliance pooling their resources and expertise on film and TV projects across the Middle East, with a focus on Saudi Arabia, the UAE and Egypt.
The first two productions to be supported under the new partnership will be vampire family drama Three Four Eternity, produced by Egyptian producer Mohamed Hefzy (Clash, Yomeddine), and HWJN, an adaption of the best-selling book by Arabic sci-fi pioneer Ibraheem Abbas, combining folklore and fantasy.
Peter Smith, managing director at Dubai-based MBC, said the new partnership was a game-changing move.
"We're bringing together, for the first time, a 360-degree Arab film entity that covers all aspects of content creation, including development, production, theatrical exhibition, televising on the Middle East's leading broadcaster and SVOD platforms as well as international sales," he said.
Under the deal, VOX Cinema chain – which is owned by retail and leisure conglomerate Majid Al Futtaim - will guarantee theatrical distribution for the projects supported under the pact, while MBC will offer development, production and promotional support.
"There has never been a more exciting time to be part of this field in the MENA region, and particularly, Saudi Arabia, in light of the 2030 vision," said Khaled El Chidiac, acting CEO of Majid Al Futtaim.
VOX Cinemas has a footprint of 400 screens in eight countries including Saudi Arabia where the exhibitor opened the territory's first multiplex in April in 2018.
The chain has since opened a further four multiplexes in Riyadh and Jeddah, totalling 47 screens, and plans to open another 110 by the end of 2019. It aims to operate 1,000 screens across the Gulf by 2023, including 600 screens in Saudi Arabia.
The Gulf's emerging film and TV industry has been gathering steam over the past decade with Abu Dhabi-based entertainment company Image Nation at the forefront of its development.
Its features to date include From A To B, The Worthy, Rattle The Cage (aka Zinzana) the legal drama series Justice and body swap comedy Rashid & Rajab, which is due to hit screens over the Eid holiday period at the beginning of June, marking the end of Ramadan.
"The partnership in my opinion is the most important last step in building a sustainable industry in the region. Up until now, this has been a real challenge but to have the most important broadcaster and the most important theatrical exhibitor in the region joining forces to provide local filmmakers the opportunity to realise their potential it's huge," said Image Nation CEO Michael Garin.
"Up until it's an industry that's had the talent but not the resources. The partnership also provides a structure that has lacked up until now. Great content is irrelevant if nobody sees it, so having the two best distribution partners to ensure what gets created gets seen is really critical," he continued.
Three Four Eternity is the fiction feature directorial debut of Palestinian Dubai-based director Rami Yasin, who is best known in the local industry for his producer credits including From A To Be and Rattle The Cage.
"We're very excited about Rami's vampire movie," said Peter Smith, managing director of MBC Studios. "The team is look to the end of quarter three to start production so it will be some six months before it's ready and HWJN will take a little longer."
Ali Jaafar, senior manager of content at MBC Studios, said several other projects were in the pipeline.
"Three Four Eternity will go into pre-production after Ramadan. We're finalising cast now. It will have a nice Arabic cast," he said. "HWJN is a very ambitious project. We want to get into production at the end of this year, early next year, certainly in the next 12 months," he said.
"There's a lot of stuff in development, a couple which might go pretty quickly. We're waiting for drafts to come in. If they come in and they're great, then we can go. The beauty with this relationship is that we're financed."