Paramount's latest outing records year's biggest opening to date with $20.1m (£11.75m); Universal's Boyhood scores strong $565,000 (£330,000) debut.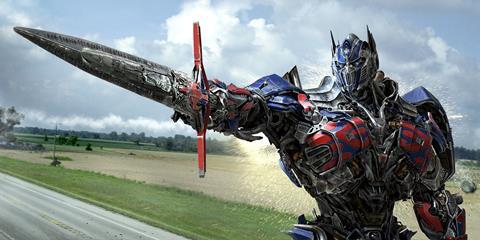 As expected, Transformers: Age of Extinction has recorded the year's biggest opening to date as it exploded into life at the UK box office.
Paramount's latest outing for the popular franchise shot to a $20.1m (£11.75m) debut from its 533 sites, including $13.7m (£8m) in previews. As with last weekend's Sat-Sun take, the film's Fri-Sun tally of $6.3m (£3.7m) would have also seen it top the chart, based purely on Fri-Sun takings.
The debut also marks the biggest opening of the Transformers series to date, surpassing Transformers: Dark of the Moon's $18.4m (£10.7m) which included $7.2m (£4.23m) in previews.
If we consider this Fri-Sun to be its first 'weekend' though, Age of Extinction's $6.3m (£3.7m) gross is actually the lowest of the franchise.
Dark of the Moon is currently the highest grossing Transformers outing in the UK at $48.1m (£28.11m), and the arrival of Dawn of the Planet of the Apes will provide stiff blockbuster competition for Transformers: Age of Extinction this coming weekend in its attempt to overtake that result.
FOX
Expanding nationwide after two weeks of release in Scotland and Ireland, How to Train Your Dragon 2 climbed up to second with a $13.3m (£7.8m) weekend, including $8.3m (£4.9m) from its England and Wales previews over the past month.
Just taking into account Fri-Sun, Fox's animated sequel took $5m (£2.9m) for a boost of 11% over last Fri-Sun when the film previewed across the UK and Wales. With its predecessor's $29.7m (£17.4m) in its sights, How to Train Your Dragon 2 stands at $16.4m (£9.6m).
Also for Fox, The Fault in Our Stars is on the cusp of £10m after a $956,000 (£558,357) weekend lifted it to $16.9m (£9.9m).
X-Men: Days of Future Past stands at $46.2m (£27m).
UNIVERSAL
Last week's champion Mrs. Brown's Boys D'Movie fell to third with a $1.8m (£1.06m) third weekend through Universal. The big screen outing of the popular TV sitcom is up to a healthy $20.3m (£11.84m) in the UK, and still has a good chance of hitting £15m.
Also for Universal, the critically acclaimed Boyhood is off to a strong start with a $565,000 (£330,000) debut, including $34,000 (£20,000) in previews, at a site average of $5,827 (£3,402).
That marks director Richard Linklater's second highest opening in the UK, behind School of Rock's $4.6m (£2.7m) debut from a considerably wider release (377). Linklater's acclaimed Before trilogy all missed the £1m mark in the UK, a target that looks the minimum aim for Boyhood.
EONE
Landing in 347 sites through eOne, Begin Again started its UK run with $777,000 (£454,139) and was arguably hit by the unexpected good weather this weekend.
It is, however, director John Carney's best-ever UK debut by some distance and it will shortly overtake Once's $1.2m (£682,000) UK result.
SONY
With a further slim drop in its sixth weekend, Sony's 22 Jump Street added $711,000 (£415,000) for an excellent $30m (£17.5m) to date.
DISNEY
Also with a minimal drop of 32% was Disney's Maleficent, conjuring up $526,000 (£307,000) for $30.8m (£17.96m) after seven weeks in play. Worldwide, the reimagining of Sleeping Beauty is the fourth biggest film of the year at $670m.
WARNER BROS
Falling almost 50% in its second weekend, Warner Bros' Tammy added $414,000 (£242,000) for $1.9m (£1.13m) in the UK.
Also for Warner Bros, Edge of Tomorrow has amassed $13.3m (£7.75m).
LIONSGATE
Chef cooked up a $133,000 (£77,588) third weekend through Lionsgate for $2.3m (£1.3m) to date.
VERTIGO FILMS
Now in its third week of release, Vertigo Films' Walking on Sunshine grossed $93,000 (£54,436) from its 91 sites for $1.9m (£1.1m) to date.
STUDIOCANAL
Currently playing in 65 sites, The 100-Year-Old Man Who Climbed Out the Window and Disappeared added $79,000 (£46,251) for $394,000 (£230,638) after ten days in play through StudioCanal.
UPCOMING RELEASES
This week sees saturation releases for Fox's Dawn of the Planet of the Apes (opens July 17) and Vertigo's Pudsey the Dog: the Movie (opens today in Ireland and Scotland).
Soda's Finding Vivian Maier, Peccadillo's I Am Divine and StudioCanal's Grand Central are among the films receiving a limited release.