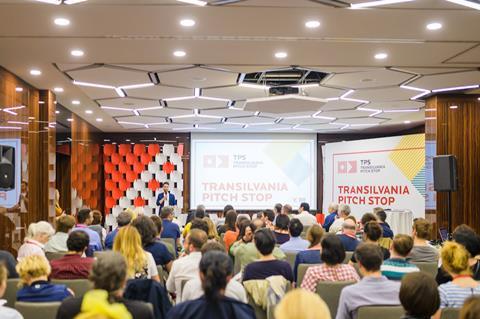 The Transilvania International Film Festival (TIFF, July 23-August 1) industry platform is expanding this year with three new initiatives - the Drama Room workshop, the Full Moon Script Contest and the First Cut Lab Cluj. They will complement the existing programme of the Transilvania Pitch Stop (TPS), Transilvania Talent Lab (TTL) and InfiniTIFF Incubator.
Drama Room's three-day programme (July 26 – 28) is aimed at directors, producers and screenwriters from the Central and Eastern Europe interested in developing and producing series and mini-series.
Fifteen participants have been selected to take part in the hybrid event which will consist of online tutoring sessions in collaboration with the Midpoint Institute and led by tutors Gábor Krigler and Marike Muselaers.
In addition, a case study will be presented in-person at the festival of Iulia Rugină's pilot for the new HBO Romania series RUXX which is screening in TIFF's new Coming Up Next section dedicated to series.
In his online session for the participants, former HBO executive Krigler will focus on developing Eastern European drama series' for the international market, while Muselaers, co-CEO of the Lumiere Group will discuss the nuts and bolts of co-production and deal structures.
Meanwhile, the finalists of TIFF's Full Moon Script Contest for horror, fantasy, thriller and black comedy screenplays will be in Cluj to pitch their projects to producers, funders and other industry professionals.
Five projects by Romanian scriptwriters and directors were selected in the feature-length film category and another three for series or mini-series pilots in these genres.
A jury comprising film directors Andrei Crețulescu and Constantin Popescu,together with Cătălin Mesaru, artistic director of the Full Moon Horror and Fantasy Film Festival, will decide on an award of €1,500 in each category to be announced at TIFF's closing gala on July 31.
The third innovation in this 20th anniversary year will see TIFF hosting the First Cut Lab workshop for the first time. Three Romanian film projects – Vlad Petri's documentary Between Revolutions, Paul Negoescu's exploration of toxic masculinity Men Of Deeds, and Alexandra Gulea's creative documentary Maya Was The Queen of The Night – were selected to screen their full rough cuts in private sessions and receive advice from consultant editor Matthieu Taponier and editorial consultant Wim Vanacker.
The producer-director-editor teams will be given further practical tips about their projects from four leading film professionals Ewa Bojanowska (New Europe Film Sales), Virginie Devesa (Alphaviolet), Alexis Hofmann (Bac Films) and Vicky Miha (Asterisk*).
Pitch Stop 2021
The centerpiece of TIFF's industry platform – Transilvania Pitch Stop – is now on to its eighth edition this year, albeit with some tweaks to the format.
It had initially focused on the development and pitching of local Romanian and Moldovan film projects before it was extended to include international projects for the 2017 edition.
However, this year has seen the development workshop merging with the co-production platform and script consultant Christian Routh focusing on five of 10 selected projects, including Turkey's Confrontation (dir: Filiz Kuka), Moldova's The Poor Dove (dir: Călin Laur) and Romania's The Way We Look at the Sun (dir: Ioana Țurcan).
TPS's line-up of 10 feature film projects from Romania and countries around Romania also include Russian director Vladimir Beck's Sasha, also pitched at the WEMW Goes To Russia co-production forum in June, and Turkish filmmaker Doğu Yaşar Akal's Tussifed which was invited to Cluj after winning the Transilvania Pitch Stop Award at this year's Meetings on the Bridge in Istanbul.
Projects presented at past editions of TPS have included Christos Nikou's feature debut Apples, screening in TIFF's Official Competition this year, and Aleksey Chupov and Natasha Merkulova's Venice prize-winner The Man Who Surprised Everyone.
An international jury composed of Midpoint Institute's Katarina Tomkova, producer and consultant Vicky Miha at Athens-based Asterisk*, and Maria Tânjală from the blockchain company FilmChain will hand out three awards including the CoCo Award which will give the winning project an opportunity to pitch at the Connecting Cottbus East-West co-production market in November.
Cinema managers in Romania and the surrounding countries will again be the focus of the Transilvania Talent Lab (TTL) which is being held over three days and will address the various strategies for reopening cinemas after their enforced closure due to the pandemic.
TTL's participants will join a roundtable of exhibitors and distributors on July 28 and then take part in the Innovation Days Lab which are being organised as in previous years with Europa Cinemas on July 29 and 30.The two-day workshop will be overseen by Metka Daris, director of Ljubljana cinema Kinodvor, and Tom de Bont, programmer at the Heerenstraat Theatre in The Netherlands.
The InfiniTIFF programme, dedicated to artists, entrepreneurs, creatives and cultural operators working in new media such as VR, AR and XR, returns this year with a new format offering a year-long incubator programme.
The programme will offer creatives in any industry that have an idea for a product, application or cultural service that involves new media the chance to develop a pitch for funders, sponsors, cultural operators, technology providers or local authorities.
Eleven projects have been selected for a two-day onsite workshop during TIFF from July 27-28 with Peter Barta, the creator of entrepreneurship training program The Long Run Method. Over the following two months, they will then receive online mentorship and have the chance in mid-October for in-person meetings with potential partners.