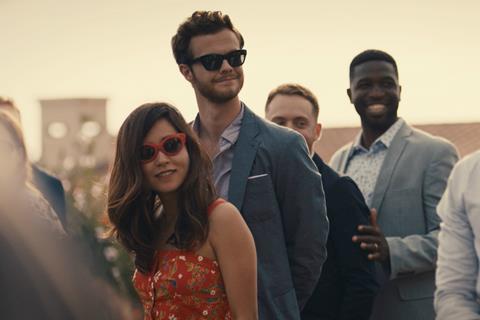 Radiant Films International has come on board Tribeca Film Festival narrative audience award winner Plus One and will screen and launch sales in Cannes.
Ben Stiller is among the executive producers on the comedy starring Maya Erskine and Jack Quaid as best friends who, faced with a summer of friends' weddings, agree the only way they can get through the season is by accompanying each other to every nuptial.
The directing debut from Jeff Chan and Andrew Rhymer (Hulu's PEN15, truTV's Adam Ruins Everything) is inspired by their own lives. The cast includes Ed Begley Jr., Rosalind Chao, and Beck Bennett.
Radiant president and CEO Mimi Steinbauer negotiated the deal and represents the film alongside Verve, who handled the rights on behalf of the filmmakers.
"Radiant is delighted to present such a fun and uplifting romantic comedy to international buyers at the upcoming Cannes Market," said Steinbauer. "Jack Quaid and Maya Erskine have undeniable chemistry and are hilarious in this wonderful, refreshing film."
Deborah Liebling produced Plus One alongside Ross Putman, Jeremy Reitz, Greg Beauchamp, and Chan and Rhymer. Stiller served as executive producer through his Red Hour Films with Nicholas Weinstock and Jackie Cohn, Michael Schreiber and Dan Weinstein for for Studio71, Lunacy Productions' Stu Pollard and Harris McCabe, Inwood Road Films' James Short and John Short, and Milan Chakraborty.
RLJE Films recently acquired US rights to the film ahead of its world premiere at Tribeca.