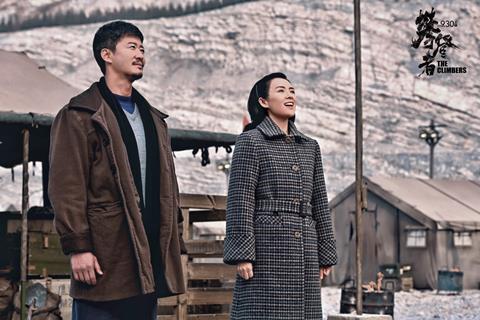 UK-based Trinity Cineasia has acquired Shanghai Film Group's action drama The Climbers, starring Wu Jing and Jackie Chan, for the UK/Ireland, Eastern Europe and all CIS countries, including Russia and Ukraine.
Directed by Daniel Lee (Three Kingdoms) and produced by Tsui Hark (Detective Dee series), the film also stars Zhang Ziyi and Hu Ge (The Wild Goose Lake) and is being handled internationally by 1905 Pictures.
Set in the 1960s, The Climbers tells the real-life story of the first Chinese mountaineers to summit Mount Everest and the first ever to do so from the infamously difficult North Ridge.
Trinity Cineasia will release the film in the UK and Ireland in standard 2D and IMAX on September 30, day-and-date with its China release, timed for the National Day holidays, which this year celebrate the 70th anniversary of the founding of the People's Republic of China. Eastern Europe and CIS territories will release the film later this year, dubbed in local languages.
Claire Luo-San, senior vice president of 1905 Pictures, said: "I've known Trinity for a couple of years and always wanted to work with them as I've been impressed by how diligent and professional they are about Chinese-language films."
Trinity Cineasia co-founder and director, Cedric Behrel, described the film as "a rousing story of courage with epic proportions that will connect with a wider audience, and furthers our strategy of engaging Western and Eastern audiences together, while expanding our releasing footprint across Europe and beyond."
Trinity Cineasia is also releasing The Captain, produced by Bona Film Group and sold internationally by Distribution Workshop, in the UK and Ireland on September 30. It also recently worked on the UK/Ireland release of Chinese animated feature Nezha, which is the second highest-grossing local film ever in China with a box office haul of $693m.