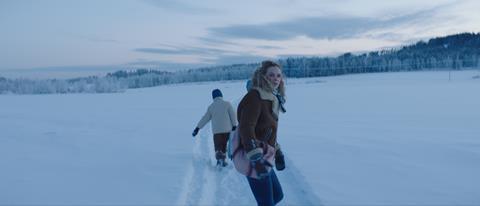 TrustNordisk has boarded sales for Sami Blood director Amanda Kernell's new film Charter. Screen can reveal an exclusive first image from the film, above.

The film started shooting on January 21 in northern Sweden and will wrap its shoot on March 21 in Tenerife, Spain.
The cast features Ane Dahl Torp (1001 Grams) and Sverrir Gudnason (Borg Vs McEnroe) as well as newcomers Tintin Poggats Sarri and Troy Lundkvist.
Kernell reunites with many of the same team from her acclaimed debut Sami Blood: producer Lars G. Lindström, DoP Sophia Olsson, editor Anders Skov, composer Kristian Eidnes Selin Andersen and sound designers Brian Dyrby and Mira Falk.
The story follows a mother's desperate move to abduct her own children on a trip to the Canary Islands because she fears she will lose custody of them.
Kernell said: "I myself grew up with divorced parents and I see Charter as a declaration of love to all divorced parents and their children. For me, Charter examines every parent's greatest fear – the loss of their children. I want to explore how far one could and should go for the sake of your children."
Producer Lindstrom added: "With Charter, we present audiences with higher production values and a dynamic choice of locations – from the Swedish deep winter above the polar circle to the lava beaches and desolate desert of Tenerife. With Amanda Kernell's powerful writing and directing skills and a dedicated cast and crew from almost all of the Nordic countries, we want to create a modern drama that has the potential to travel far beyond our Scandinavian borders."
Susan Wendt, managing director of TrustNordisk, added: "We are really looking forward to working together with Amanda on this compelling emotional drama that I am confident will get a lot of attention from festivals as well as distributors."
Charter is produced by Nordisk Film Production Sverige in co-production with Nordisk Film Production Danmark, Nordisk Film Production Norge, SVT, TV2 Norge, Swedish Film Institute, Danish Film Institute, Norwegian Film Institute, Filmpool Nord, Film i Västerbotten, Nordisk Film & TV Fond, Eurimages, the Canary Island tax rebate and support from the MEDIA program.
Orange Valley handles production services in Tenerife. Nordisk will release in Sweden, Norway and Denmark.
Sami Blood premiered at Venice 2017 where it won two prizes, later winning Goteborg's lucrative Dragon Award and four Swedish Film Academy Awards (Guldbagge).