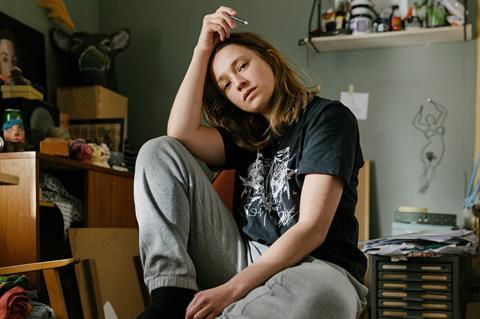 TrustNordisk has boarded international sales for quirky comedy drama Ninjababy, which will mix live action and animation.
Norway's Yngvild Sve Flikke directs from a script by Johan Fasting based on Inga H Sætre's graphic novel Fallteknik. The film is in production now for local release in autumn 2020. Screen can reveal the first image here.
The story is about 23-year-old Rakel, who finds out she is six months pregnant after a one-night stand. That's when the animated Ninjababy climbs out of her notebook and begins to make her life a living hell.
Silje Nikoline Glimsdal, sales and project manager at TrustNordisk, said: "This is a funny and heartfelt story that we are proud to represent on the international scene. We're more than positive that the talented Yngvild Sve Flikke will do a great job bringing this to life."
Sve Flikke made her feature debut with 2015 comedy Women In Oversized Men's Shirts and has also directed episodes of TV series Home Ground, a Motlys/NRK Drama production.
Norwegian production company Motlys (Thelma, Force Majeure) also produces Ninjababy, with Yngve Sæther as lead producer. The young cast includes Kristine Thorp as Rakel, Arthur Berning and Nader Khademi.
Nordic distribution will be handled by Arthaus in Norway, Tri-Art in Sweden and Øst for Paradis in Denmark. The film is backed by the Norwegian Film Institute and Nordisk Film & TV Fond.