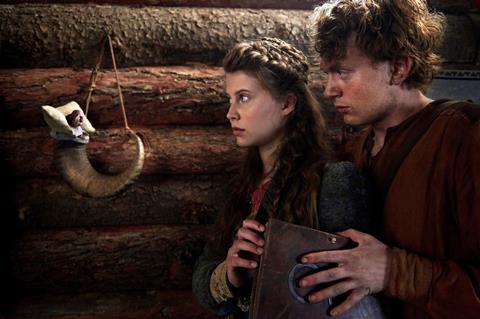 TrustNordisk has closed a slew of deals on a trio of its family-oriented films.
It has sold Kasper Munk's Danish family adventure Wildwitch to Germany, Austria and German-speaking Switzerland (MFA+), Russia/Ukraine/Kazakhstan (Overbrick), Poland (Vivarto), Mexico (Star Castle), China (HGC), and Italy and Italian-speaking Switzerland (Imago). The film has already been released in Denmark.
Stinna Lassen and Anni Faurbye Fernandez produce for Good Company Film. The story is about a girl who discovers she is a wildwitch who has special powers like the ability to communicate with animals. The cast features Gerda Lie Kaas, Sonja Richter, May Lifschitz, Signe Egholm Olsen and Henrik Mestad.
Fantasy adventure The Shamer's Daughter – The Serpent Gift, the second Shamer's Daughter film, directed by Ask Hasselbalch, sold to China (Beijing Huiya International Culture Communication), Spain & Andorra (Art Mood), Italy and Italian-speaking Switzerland (Imago), Poland (Vivarto), Czech Republic and Slovakia (Foxx New Media), Albania, Slovenia, Croatia, Serbia, Montenegro, Bosnia, Herzegovina, Kosovo, and Macedonia (Cinemania).
Producers are Nina Lyng and Eva Juel Hammerich for Copenhagen-based Nepenthe Film. The powerhouse cast includes Rebecca Emilie Sattrup, Jakob Oftebro, Dejan Cukic, Søren Malling and Nicolas Bro. The plot is about a girl with supernatural abilities who has to defend her family's way of life.
The second Ash Lad film, The Ash Lad – In Search Of The Golden Castle, now in post and directed by Mikkel Brænne Sandemose, sold to Spain and Andorra (Art Mood; Russia, Ukraine, Kazakhstan, Estonia, Lithuania and Latvia (International Movie Distribution/Capella Film); Czech Republic and Slovakia (Cinemart); and Poland (Telewizja Puls).
Producers are Åshild Ramborg Synnøve Hørsdal for Norway's Maipo. The cast includes Vebjørn Enger, Eili Harboe, Mads S. Pettersen, Elias H. Sørensen, and Sidse Babett Knudsen. The story follows the Ash Lad and Princess Kirstin who have to go on journey to find a mythical castle and try to save their kingdom