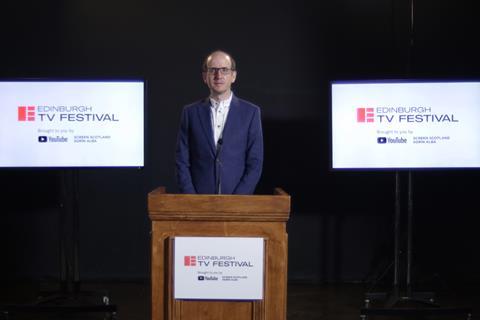 UK TV has "utterly and totally" failed disabled people, according to MacTaggart lecturer Jack Thorne, as he unveiled an accessibility pressure group designed to improve the situation.
The Virtues and The Accident writer pulled no punches when referring to disability as "the forgotten diversity", as he became the 46th MacTaggart speaker and first to have had a disability.
"Disability is the issue everyone leaves out of speeches," he said.
"Gender, race, sexuality all rightly get discussed at length but disability gets relegated out. In conversations about representation, it is confined to the corner, it remains an afterthought."
Issuing a call for quotas, Thorne pointed to numerous examples of non-disabled actors "taking roles they shouldn't have", commissioners failing to tell disabled stories and producers ignoring disabled writers.
The writer, who cut his teeth on Shameless and Skins and has more recently penned episodes of His Dark Materials, suffered for 15 years from cholinergic urticaria, a chronic condition that causes adverse reactions to heat and movement, and although he no longer considers himself disabled he still believes himself to be "part of the community".
Thorne, the second successive person to deliver a virtual MacTaggart, described a year "of ableism like I've never seen before", with many disabled people dying or being impacted by Covid-19.
The MacTaggart lecture is the Edinburgh International Televisions Festival's keynote address.
Underlying Health Condition
Thorne chided himself for having so far "failed" to further the disability cause and issued a four-pronged approach to tackling the issue, including the launch of a pressure group to lobby for improved accessibility.
Known as Underlying Health Condition and forged with line producer Katie Player and The Accident star Genevieve Barr, the group is "consulting, researching and working on a plan for industrial support for this industrial change".
The trio will lobby the industry to form a dedicated fund to "make every space accessible and create rules for the building of further spaces", overcoming issues such as disabled people being unable to access toilets and deaf people being denied conversations with execs due to inadequate communication systems.
Thorne told horror stories of disabled talent who have had to cope with inaccessible buildings, citing one who can't walk and had to crawl up steps and along a muddy floor to get to her desk, which she could only reach by sitting on a box of printer paper.
"This fund will cost us comparatively little as an industry and yet will make a huge difference to improving disabled representation behind the scenes," he added, a figure that currently sits at just 5.4%.
"We need spaces to be truly inclusive so that never again will people be crawling across the floor…denied a meeting because of lack of access [and] excluded because of the spaces we work in."
The group will also push for an accessibility coordinator on each set to play a similar role to intimacy co-ordinators and "protect conditions" to make sure everyone is comfortable.
Quotas
The introduction of meaningful quotas was proposed a crucial way to help improve matters, in an industry in which the proportion of disabled top execs sits at 3.6%, way behind the population's 20%.
Thorne backed Lenny Henry's blueprint for a diversity tax relief and last year's lecturer David Olusoga's call to give the DCMS powers to set up a body to enforce any targets set, following the lack of progress towards the broadcasters and Creative Diversity Network's voluntary Doubling Disability goals.
"Disability desperately needs quotas," he said. "Firm quotas behind and in front of the camera would fundamentally alter the stories being told."
Such an approach would elevate actors, writers and directors, in the same way as the Black Lives Matter protests furthered the careers of minority-ethnic talent.
In order to be truly effective, Thorne called for the introduction of quotas throughout the sector – starting with drama schools and training institutions.
"Quotas need to be everywhere…not just in the 'making' portion," he said. "Drama schools in particular have been the bastions of privilege for so long. I can't tell you how important it is that we kick in those doors."
'Attitude change'
Thorne also called for an "attitude change" in drama, with proper funding diverted to disabled stories.
Up until this year's BBC2 / Netflix co-pro Then Barbara Met Alan, Thorne has "never made a single disabled story on a full drama budget", with shows such as Channel 4's Cast Off and BBC1's Don't Take My Baby produced on a fraction of a regular drama tariff.
Meanwhile, an exec examining his first ever drama treatment about a wheelchair basketball team "asked me to consider writing it about a non-disabled team as it needed 'the best chance it could'," said Thorne.
He urged indies to cast disabled actors to play disabled talent, while lambasting the treatment of writers and directors who are "castigated and patronised, made to feel like they're the one that's made the situation uncomfortable".
In one "horrific situation", he said, a writer was attacked and bullied for raising a "cultural concern" before they were dropped from a show and had their idea stolen.
Thorne pointed to green shoots such as BBC4 short-form series Crip Tales and Peter Bowker's upcoming A-Word spin-off Ralph and Katie, which is being made with a disabled writers' room.
He said programme-makers must understand that disabilities are complex and can be both physical and mental. "TV's greatest power is when it runs towards a complexity, not away from it," he considered.
He urged execs to be "inquisitive" about people's disabilities, rather than simply relegating their portrayal into two camps, "heroes or victims", which has been the traditional approach.
Thorne concluded by urging the industry to use its power as a force for good, creating a "chink of change" that will lead the nation to realise "how valuable and how consumable disabled people's stories are".
"For years, the attitude towards disability has been 'don't look' but TV makes you look," he said.
"And eyes are needed. Because if we don't look, we ignore and we forget, and this last year – in fact the last 10 years since the horror of austerity – has proved disabled people need eyes upon them."
This story first appeared on Screen's sister site Broadcast