The annual jamboree in Austin, Texas, has been about so much more than just film and TV for many years.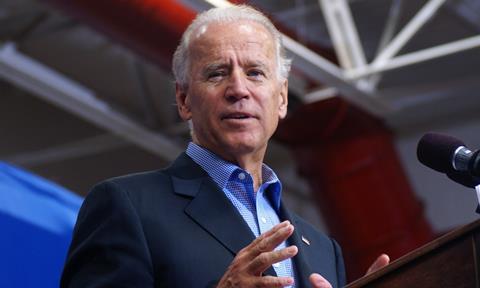 Attendees can listen to keynotes by extraordinary people on all manner of topics – be they sports, medicine, politics, technology, activism – the list goes on.
True to Screen's roots, the list that follows is culled mostly from the world of content creation with one or two gravity-defying exceptions.
SXSW runs from March 10-19 and the film festival opens with the world premiere of Terrence Malick's Song To Song. Click here for the full roster of events.
Baby Driver
March 11. After Edgar Wright quit as director of Ant-Man over creative differences, he went to work on something creatively different. The result will be on view at SXSW as the action thriller gets its world premiere. Ansel Elgort stars as the eponymous getaway driver; a man in love who tries to break away from the life of crime. TriStar will release in the US on August 11.

American Gods
March 11. Director David Slade gets first dibs on the STARZ show adapted from genre maestro Neil Gaiman's novel about a world of magic and battling gods. Ian McShane, Emily Browning, Pablo Schreiber are among the cast on the world premiere pilot. STARZ will premiere the show on April 30.
Becoming Bond
March 11, 14 and 17. Ever wondered why George Lazenby walked away from the James Bond franchise after his only performance as 007 in On Her Majesty's Secret Service? After that film, regarded by fans as one of the best in the franchise, the Australian former car mechanic was offered a contract to stick around for the next six films and a $1m signing bonus – yet he walked away. This Hulu documentary recounts the intriguing tale and the show airs on March 11.
Atomic Blonde
March 12. Mad Max: Fury Road star Charlize Theron is looking badass again. This time the Oscar-winner plays a British assassin dispatched to Berlin on a deadly mission. James McAvoy, John Goodman, Til Schweiger, Eddie Marsan, Sofia Boutella, Toby Jones lend support. Focus Features will release in the US on July 28.
Meet the Game Of Thrones showrunners
March 12. David Benioff and DB Weiss are preparing for the start of Season 7, which we now know will air on July 16. Will the co-creators of HBO's dazzling fantasy saga offer a few surprises? We live in hope, but their anecdotes and insights alone should be worth the cost of the badge and show stars Maisie Williams and Sophie Turner will be on hand to spice things up.
Vice President Biden speaks
March 12. It is not often a festival crowd gets to listen to a former vice president. Joseph Robinette Biden (pictured) is no shrinking violet and will use his platform to address the audience about his initiative to fight cancer as part of SXSW's Connect To End Cancer series. The subject is personal for Biden, whose eldest son Beau died of brain cancer two years ago at the age of 46. Biden's wife Dr Jill Biden will introduce Barack Obama's former right-hand man.
Film Keynote: Lee Daniels
March 12. One of the most accomplished and consistently daring creators in film and TV, the animated Daniels promises to deliver a memorable session as he looks back at his career to date and discusses content and philanthropy. His credits include Lee Daniels' The Butler and Precious and he was a creator on Fox's hit Empire and the upcoming Star.
Life After Gawker
March 12. British blogger and businessman Nick Denton, founder and CEO of the feisty news service Gawker that went bankrupt after Hulk Hogan sued the company for invasion of privacy, will talk about First Amendment rights in the internet age, the future of news and the shadowy forces behind the scenes that threaten free speech. Denton should have plenty to say: his website went out of business when gay billionaire Peter Thiel, who had previously been outed by Gawker, at the time secretly bankrolled Hogan's lawsuit.
Narratives For The Digital Age
March 14. Producer Walter Parkes co-wrote the cult 1983 sci-fi WarGames and joins a panel to explore how Hollywood's treatment of technology can influence public policy in the age of cyberwarfare.
This is Not a Game…or a Movie: Chris Milk on VR
March 14. One of the high priests of VR and immersive content will talk about the innovations that went into making his latest interactive work Life Of Us, which premiered at Sundance in the New Frontiers strand, and how they are shaping the stories of tomorrow.
A Conversation With Buzz Aldrin
March 14. At the time, Aldrin was the first astronaut with a doctorate when he flew into space on the Apollo 11 mission in 1969 and became the second man to set foot on the moon after Neil Armstrong's giant leap. Aldrin pioneered underwater training techniques for space-walking, among other innovations, and continues to champion a permanent human settlement on Mars.
Beyond BB-8: When Robots Start Acting Human
March 14. Deep learning comes under the microscope as a panel of academics, a robotics developer and a journalist discuss the new wave of artificial intelligence research designed to make robots lean, adapt and make intelligent decisions. Prepare the shuttles to Mars…