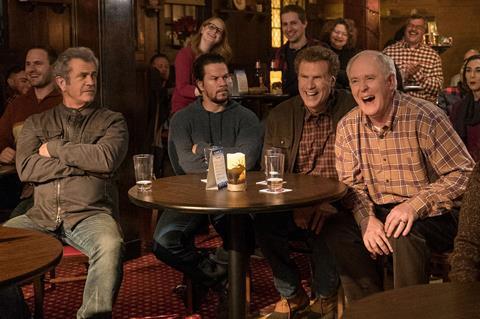 (Note - Dollar conversions are based on today's rates)
UK Top Five
| Ranking | Film / Distributor | Weekend gross | Running total |
| --- | --- | --- | --- |
| 1 | Daddy's Home 2 (Paramount) | $6.52m (£4.88m) | $6.52m (£4.88m) |
| 2 | Paddington 2 (Studiocanal) | $5.97m (£4.47m) | $30.58m (£22.9m) |
| 3 | Justice League (Warner Bros) | $3.98m (£2.98m) | $17.23m (£12.9m) |
| 4 | Murder On The Orient Express (Fox) | $1.83m (£1.37m) | $27.28m (£20.43m) |
| 5 | Frozen (Disney) | $1.47m (£1.1m) | $57.3m (£42.9m)* |
*including grosses from 2013 release
Paramount
Will Ferrell and Mark Wahlberg-starring comedy sequel Daddy's Home 2 landed top after a Fri-Sun result of $3.66m (£2.74m) from 505 sites, an average of £5,426, plus extensive previews across the week which garnered $2.87m (£2.15m). That puts it on a non-final $6.52m (£4.88m), with a few sites yet to be added.
That's an improvement on previous entry Daddy's Home, which opened to $2.18m (£1.63m) from 438 sites, albeit from only a two-day opening stretch over the 2015 Christmas weekend.
The first film marked director Sean Anders' biggest UK bow, so the sequel tops that, and it will now be eyeing up the final gross of $22.97m (£17.2m) posted by the original.
Studiocanal
Paddington 2 held second place in the chart, posting another strong hold in its third weekend with a non-final $5.97m (£4.47m), a fall of 32%. The family-friendly hit is continuing to track significantly ahead of the original, which posted a third weekend of $3.87m (£2.9m) back in December 2014.
The sequel now stands on $30.58m (£22.9m), ahead of the original's $19.1m (£14.3m) at the same stage. Paddington's final total of $50.61m (£37.9m) is well within its sights.
Warner Bros
Justice League fell a steep 60% in its second week, falling to third in the chart with a Fri-Sun total of $3.98m (£2.98m). The superhero blockbuster now sits on $17.23m (£12.9m), and barring a significant resurgence will fall short of Wonder Woman's UK total of $29.64m (£22.2m).
That's a disappointing return for Warner Bros, with the distributor's previous Zack Snyder-directed DC outings Batman v Superman and Man Of Steel looking a long way off on $48.85m (£36.58m) and $40.06m (£30m) respectively.
The total also compares poorly with Marvel's assembled superhero outings, with Avengers posting $69.26m (£51.87m) in the UK and its sequel Age Of Ultron totalling $64.54m (£48.33m).
Fox
Murder On The Orient Express dropped one place on the chart to fourth and has now crossed £20m. Its Fri-Sun total of $1.83m (£1.37m) was a fall of 40% and it now sits on $27.28m (£20.43m).
Battle Of The Sexes opened with $604,734 (£452,871) from 467 sites for an average of $1,311 (£982). That's a best-ever opening for directing duo Jonathan Dayton and Valerie Faris, topping 2012's Ruby Sparks (which ended on $1.05m (£787,000)) and 2006's Little Miss Sunshine (which snowballed onto $4.3m (£3.22m)), though the latter opened in significantly fewer sites.
Disney
In its fifth week on release, Thor: Ragnarok steadied with a drop of 49%, posting $801,201 (£600,000) with several sites yet to report.
That puts it on $39.13m (£29.3m), making it officially the seventh highest-grossing Marvel film in the UK having surpassed Guardians Of The Galaxy. It looks set to cross £30m this week, becoming the eighth UK release to do so in 2017.
Also from Disney, a re-release of popular animation Frozen, accompanied by new featurette Olaf's Frozen Adventure, took $1.47m (£1.1m) over the weekend, largely from early matinees on Saturday and Sunday.
Entertainment
A Bad Moms Christmas added $531,555 (£397,692) Fri-Sun and now sits on $9.04m (£6.76m).
EONE
The George Clooney-directed Suburbicon opened to a soft $308,746 (£230,994) from 364 sites, including $27,771 (£20,778) from previews.
The Death Of Stalin added $99,789 (£74,659) and now sits on a healthy $6.34m (£4.74m.)
Sony
Family animation The Star opened to $271,073 (£203,000) from 430 sites.
Lionsgate
Film Stars Don't Die In Liverpool added $144,266 (£108,038) over Fri-Sun, dropping around 46%.
That puts it on $780,945 (£584,831) to-date, ahead of director Paul McGuigan's previous release Gangster No.1 ($474,043 (£355,000)) and it will now close in on Wicker Park's $833,249 (£624,000).
Horror sequel Jigsaw added $62,760 (£47,000) and now sits on $6.62m (£4.96m), leaving it still some distance short of the franchise's previous low entry, Saw VI on $7.21m (£5.4m).
My Little Pony took $19,362 (£14,500) and is up to $4.71m (£3.53m).
Arrow Films
Lost In Paris opened in three sites – a one day festival booking and two regular bookings – taking $5,998 (£4,492). Adding to previews, the film sits on $9,442 (£7,071).
Dogwoof
Jane, the feature doc about the British primatologist Jane Goodall, opened to $24,114 (£18,059) from its six sites.
Munro Films
Thriller #Starvecrow posted $796 (£596) from its single location release.
Upcoming Releases
Lionsgate's Julia Roberts and Jacob Tremblay-starring Wonder has a saturation release this weekend.
The Man Who Invented Christmas, via Trafalgar Releasing, will have a wide release.
There will be limited releases for Michael Haneke's Happy End via Curzon Artificial Eye, and Most Beautiful Island via Bulldog Film Distribution.
Event cinema releases include the Royal Opera House's Nutcracker, and Trafalgar Releasing's Young Marx – NT Live.