Sony's The Emoji Movie arrives with five-day debut of $3.52m (£2.7m).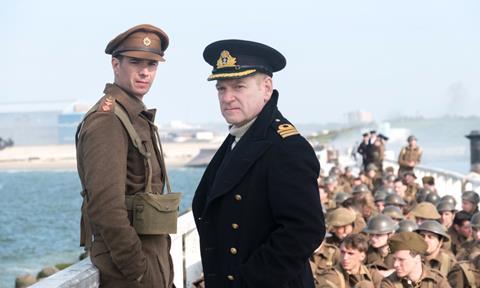 UK TOP FIVE
| Ranking | Film/Distributor | Weekend gross | Running total |
| --- | --- | --- | --- |
| 1 | Dunkirk (WB) | $6m (£4.64m) | $49.8m (£38.22m) |
| 2 | The Emoji Movie (Sony) | $3.52m (£2.7m) | $3.52m (£2.7m) |
| 3 | Valerian (Lionsgate) | $2.42m (£1.86m) | $2.42m (£1.86m) |
| 4 | Despicable Me 3 (Universal) | $1.54m (£1.18m) | $51.3m (£39.33m) |
| 5 | Girls Trip (Universal) | $1.35m (£1.03m) | $5m (£3.8m) |
(Note - Dollar conversions are based on today's rates)
WARNER BROS
Dunkirk fought off all competition to record a hat-trick at the top of the UK box office.
Warner Bros' war epic fell a respectable 44% with a $6m (£4.64m) third weekend for a thundering $49.8m (£38.22m) after only 17 days in play, with it soon to overtake Guardians Of The Galaxy Vol. 2's $53.5m (£41m) as the second-biggest film of 2017.
Dunkirk is now director Christopher Nolan's third highest-grossing film having surpassed Inception's $46.7m (£35.81m), and you wouldn't bet against it overtaking The Dark Knight Rises' $73.5m (£56.3m) by the end of its run.
SONY
Battling overwhelmingly negative reviews, The Emoji Movie got off to a solid start at the UK box office as it charted second.
Sony's animation grossed $3.52m (£2.7m) from its 545 sites, including $1.2m (£920,000) in previews. Its Fri-Sun tally of $2.35m (£1.8m) would have also seen it chart second.
While it's nowhere close to the biggest animated debut of the year, The Emoji Movie did surpass The Angry Birds Movie's $2.8m (£2.14m) debut and grossed more than recent animations Cars 3 and Captain Underpants.
Also for Sony, Spider-Man: Homecoming fell 41% as it swung to a $1.2m (£923,000) fifth weekend for $35m (£26.8m), overtaking Spider-Man 2's UK result of $34.8m (£26.7m).
Baby Driver continued its excellent run with $468,000 (£359,000), a 32% drop, for $15.5m (£11.88m) after six weeks in play, while Maudie grossed $63,000 (£48,000) from its 69 sites on its UK debut.
Bollywood comedy Mubarakan added $39,000 (£30,000) for $291,000 (£223,000) after two weeks.
LIONSGATE
Valerian And The City Of A Thousand Planets landed in third on its UK box office debut.
Lionsgate's sci-fi took $2.42m (£1.86m) from its 551 sites, including $855,000 (£655,054) in previews. Its Fri-Sun tally of $1.57m (£1.2m) would have also seen it chart third.
Valerian's opening is down on director Luc Besson's last release, Lucy, which posted a UK bow of $4m (£3.08m) from 486 sites, although did benefit from Scarlett Johansson's star power.
Back in 1997, The Fifth Element grossed $2.27m (£1.74m) from its first weekend of wide release at 373 sites, going on to take $9.3m (£7.09m) in the UK.
UNIVERSAL
Despicable Me 3 fell 47% on its way to a $1.54m (£1.18m) sixth weekend as it dropped to fourth.
Universal's latest Illumination Entertainment hit is now up to an excellent $51.3m (£39.33m) in the UK, with bigger weekend drops to be expected now it's school holidays, boosting its midweek returns with last Mon-Thurs taking $3m (£2.3m).
Also for Universal, Girls Trip posted a terrific drop of only 11% (excluding previews) with a $1.35m (£1.03m) second weekend for $5m (£3.8m) to date, with the female-led comedy potentially on track to match Bad Moms' $11.2m (£8.6m) result.
It Comes At Night stands at $788,000 (£603,993).
FOX
In its fourth week, Fox's War For The Planet Of The Apes fell 47% on its way to a non-final $1.15m (£881,374) for $23.9m (£18.33m) to date, with Rise's $27.1m (£20.77m) tally still in its sights.
Also for Fox, Captain Underpants dropped 53% (excluding previews) with a $776,000 (£594,874) second weekend for $5.76m (£4.41m), having taken $1.72m (£1.32m) across its first Mon-Thurs period.
DISNEY
Falling 52% in its fourth weekend, Disney's Cars 3 drove to a further $652,000 (£500,000) for $11.5m (£8.84m) to date, and it will likely end its run as the lowest-grossing Pixar release in the UK.
STUDIOCANAL
In its second weekend, Studiocanal's critically acclaimed comedy The Big Sick fell a slim 31% (excluding previews) with $360,000 (£276,107) for $1.41m (£1.08m) to date.
EONE
Falling a steep 65% (excluding previews), eOne's shark thriller 47 Metres Down bit into an extra $205,000 (£157,172) for $1.53m (£1.17m) to date, and won't match The Shallows' UK result of $2.92m (£2.24m).
Also for eOne, Morrissey biopic and Edinburgh 2017 closer England Is Mine posted a UK opening of $100,000 (£76,895) from its 50 sites.
TRINITY FILMS/CMC PICTURES
Chinese box office smash Wolf Warriors 2 enjoyed a strong UK debut as it grossed $30,000 (£23,000) from only five screens, mostly playing split shows and smaller screens, marking a $6,000 (£4,600) average.
As a result of its success, Trinity Films and CMC Pictures will be expanding the action sequel to more than 12 screens this week.
CURZON ARTIFICIAL EYE
Formula 1 documentary Williams posted a UK bow of $23,000 (£17,294) from its 15 sites, including previews, through Curzon Artificial Eye.
THUNDERBIRD RELEASING
Including previews, Thunderbird Releasing's Land Of Mine recorded a UK opening of $19,000 (£14,861) from its 22 sites.
ARROW FILMS
From its six sites through Arrow Films, The Ghoul posted a UK bow of $8,200 (£6,264), including $1,700 (£1,323) in previews.
UPCOMING RELEASES
This week sees saturation releases for Universal's Atomic Blonde (opens August 9), Warner Bros' Annabelle: Creation, Warner Bros' The Nut Job 2: Nutty By Nature and Entertainment's Overdrive.
Picturehouse Entertainment's A Ghost Story receives a wide release, while eOne's Pawn Sacrifice, Peccadillo Pictures' Tom Of Finland and Fox's Step are among the films receiving a limited release.