Lionsgate's Angel Has Fallen, the action thriller starring Gerard Butler, rolls out wide in the UK this weekend to give Quentin Tarantino's Once Upon A Time… In Hollywood a run for its money.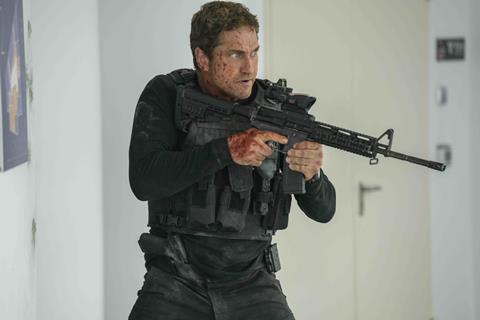 The film is a sequel to 2013's Olympus Has Fallen and 2016's London Has Fallen, both of which posted good numbers in the UK. Olympus opened with £2.2m in April 2013 and topped out with £6.2m, London surpassed its predecessor by opening with £3.2m and closing on £11m.
If the latest film follows that upwards trajectory, it could challenge Tarantino's latest, which started with a £5.1m opening weekend and could be propelled to a decent hold with word-of-mouth seemingly strong on the film which stars Leonardo DiCaprio and Brad Pitt.
It's a bank holiday in the UK this weekend, which means UK box office results will be collected on Tuesday (Aug 27). The weather forecast is positive for sunshine, which could dampen cinema attendance.
Angel Has Fallen was released on Wednesday (Aug 21), so results will cover the Friday-Sunday opening weekend, two days of previews, and the bank holiday Monday. The film again stars Butler as bodyguard to the US president (played by Morgan Freeman) - this time, he is framed for the attempted assassination of the president and must evade his own agency as he tries to uncover the truth.
Also opening this weekend is Scary Stories To Tell In The Dark, from Trollhunter director André Øvredal, which Entertainment One is releasing. The thriller follows a group of teens who face their fears in order to save their lives. It was produced and co-written by Guillermo Del Toro and has grossed £33.7m ($41.3m) in the US to date after being released on August 9.
Pedro Almodovar's Pain & Glory also opens this weekend. The film premiered in Cannes in Competition this year and picked up the festival's best actor prize for Antonio Banderas, who stars with Penelope Cruz. Pathe has UK rights and the film will go through 20th Century Fox. its output partner in the UK.
Almodovar's last film, Julieta in 2016, grossed £1.3m, a strong result for any foreign-language title in the UK.
Dogwoof is releasing feature doc Hail Satan?, Penny Lane's feature about the rise of the controversial religious group known as The Satanic Temple. The film premiered at Sundance in January and has grossed £346,332 ($424,284) in North America to date.
Key holdovers include Disney's The Lion King, which was finally displaced from the top of the table last weekend, and Universal's Fast & Furious: Hobbs & Shaw.