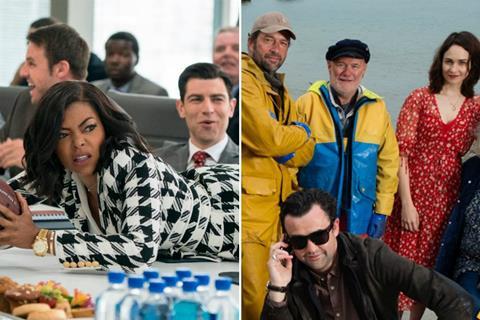 Disney's Captain Marvel looks set to dominate the UK box office this weekend after an impressive £12.8m opening.
The film was up to an estimated £15.8m in the UK as of Thursday morning, and £414.6m ($550.2m) globally.
Opening against the Marvel blockbuster are two wide releases this weekend: Paramount's US comedy What Men Want and Entertainment Film Distributor's UK musical comedy-drama Fisherman's Friends. Both titles will open in 300+ venues.
What Men Want is the latest feature from Hairspray director Adam Shankman, and stars Taraji P. Henson as a female sports agent who develops the ability to hear men's thoughts. Henson is the star of comedies including Think Like A Man and Think Like A Man Too, which were released by Sony in the UK and both grossed under £1m. She was also Oscar-nominated for her supporting role in The Curious Case Of Benjamin Button (£9.1m in the UK) and starred in Hidden Figures (£6.3m).
Director Shankman's most recent feature credit was Rock Of Ages (£2.9m in the UK), while his credits also include Hairspray (£12.8m), Bedtime Stories (£8.9m), Cheaper By The Dozen 2 (£6.4m), The Pacifier (£4.4m), and Bringing Down The House (£3.5m).
Entertainment's Fisherman's Friends is the second feature of director Chris Foggin and stars Daniel Mays and Tuppence Middleton in the story of ten fisherman from Cornwall who are signed by Universal Records and achieve a top 10 hit with their debut album of Sea Shanties.
The film is based on the true story of singing group Fisherman's Friends, who did sign a record deal with Universal back in 2010. Entertainment will be hoping the UK public remember the real-life band, and have appetite for a feel-good comedy as counter-programming to Marvel's superhero hit and the relatively slender number of other titles on release.
Further new releases this weekend include Curzon's Girl, the multi-award-winning film from Belgian director Lukas Dhont about a 15-year-old girl who, born in a boy's body, dreams of becoming a ballet dancer. It premiered at Cannes last year in Un Certain Regard and was nominated for a Golden Globe for best foreig- language film.
The film is the first significant release from Curzon since Picturehouse Cinemas started strictly enforcing a 16-week theatrical windows policy earlier this month. As all of Curzon's own releases are distributed day-and-date in cinemas and on its VoD platform, Curzon Home Cinema, the film will not be able to be programmed into any Picturehouse venues. Girl will play in 25 cinemas this weekend, including nine of Curzon's venues.
Also opening is Vertigo Releasing's horror The Prodigy. Director Nicholas McCarthy previously made The Pact, which was released by eOne in 2012 and grossed £2.6m in the UK.
STX Entertainment is handling the release of Peter Hedges' drama Ben Is Back, about a drug addicted teenage boy who unexpectedly shows up at his family home on Christmas Eve. Julia Roberts stars alongside Lucas Hedges, son of director Peter.
MUBI is releasing David Robert Mitchell's Under The Silver Lake, starring Andrew Garfield and Riley Keough. The film premiered In Competition in Cannes last year. MUBI is releasing the title as its weekly MUBI Go release, meaning subscribers to the VoD platform can redeem a free cinema ticket at select UK venues.
Also on release is Verve Pictures' Benjamin, the directing debut of UK comedian and presenter Simon Amstell, and Kaleidoscope's animation Harvie And The Magic Museum.
Key holdovers alongside Captain Marvel include Lionsgate's Fighting With My Family, Warner Bros' The Lego Movie 2: The Second Part, and Universal's Everybody Knows, which is set to expand this weekend after an impressive £2,000 site average across 54 cinemas last weekend.