EXCLUSIVE: RAF Church Fenton to become 100,000 sq ft shooting facility.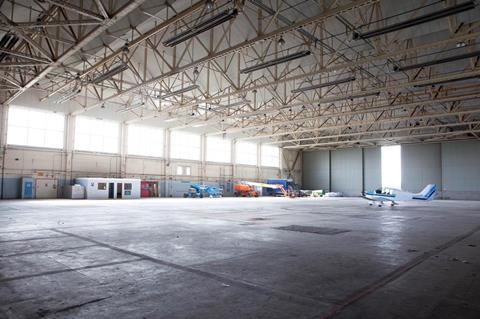 UK funding body Screen Yorkshire, backers of hit series Peaky Blinders and upcoming film Dad's Army, has struck a deal with property investors Makin Enterprises to convert the former RAF site in Church Fenton, Yorkshire, into a film and TV production facility.
'Yorkshire Studios' will see the 100,000 sq ft air base repurposed - depending on council approval - as a shoot facility comprising production and office space, garages, workshops, parking, roadways and runways.
The location, 16 miles from Leeds and 150 miles from London, is situated within 440 acres of clear vistas and comprises three aircraft hangars with energy throughout the site.
While the hangars have a multi-skin roof there is no studio specific soundproofing or lighting rig but the two largest hangars do have load-bearing cranage overhead.
The site, which is being touted as ready-to-use, is already attracting interest from industry.
Screen Yorkshire's head of production Richard Knight told Screen: "The site is in very good condition overall, it was well maintained by the RAF right up to their departure [in 2013].
"The focus is on letting the site 'as is' and we'll be working with individual productions on fit out. We are already starting to show productions round."
The site was recently rebranded Leeds East Airport with owners intending to operate commercial flights from the base however the new plans will come as a welcome surprise for local and international industry hungry for additional UK shoot space and will also further boost Yorkshire's growing reputation as a production hub.
Despite not being a purpose built studio, Screen Yorkshire expects the facility to prove a hit with film and TV producers, with talent and industry also still able to fly to the site.
Sally Joynson, CEO at Screen Yorkshire, said: "The opening of 'Yorkshire Studios' is a significant landmark for the UK film and TV industry.
"Previously, the lack of a larger-scale production facility has prevented a number of major long-term film and TV productions from basing themselves here."
Adrian Wootton, CEO of the British Film Commission, described the development as "a real boost the UK's existing production infrastructure".
Content financier Screen Yorkshire, backed by $23m (£15m) from the EU's European Regional Development Fund, has previously invested in TV series including Peaky Blinders and Jonathan Strange and Mr Norrell as well as films such as the Dad's Army reboot and Testament of Youth.
Existing production sites in an increasingly busy Yorkshire include Leeds Studios, the production complex on Kirkstall Road in Leeds, which is administrative headquarters of ITV Yorkshire and plays home to long-running TV series Emmerdale, and duo Prime Studios and Studio 81, both of which have supported a host of drama series including D.C.I Banks and The Syndicate.