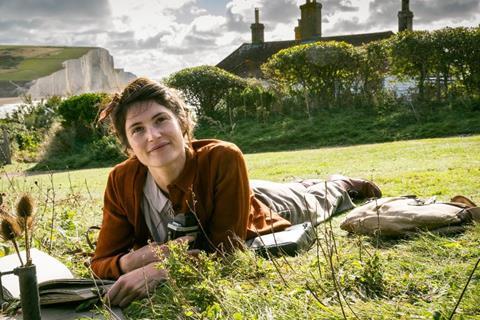 The UK Global Screen Fund is to award 10 features with support for their international distribution, including upcoming comedy A Gaza Weekend and period romance Summerland.
The titles will receive a share of £273,000 allocated through the international distribution stand of the £7m fund, which was piloted last year by the Department for Digital, Culture, Media and Sport (DCMS) to boost international opportunities for the UK's independent screen sector following the UK's withdrawal from the EU. It is administered by the British Film Institute (BFI), which confirmed the scheme's renewal for three years at the end of November.
In its pilot year, the international distribution strand has now made 34 awards totalling £1.04m.
Titles benefitting from this latest round include Basil Khalil's culture-clash comedy A Gaza Weekend, from the UK-Palestine team behind Oscar-nominated short Ave Maria, and produced by Amina Dasmal for Alcove Entertainment, which was selected for the Great 8 Showcase at this year's Cannes.
Also receiving international distribution support is Jessica Swale's Summerland, starring Gemma Arterton and Gugu Mbatha-Raw. It will mark a fresh international push for the film, which was initially released by Lionsgate in the UK in July 2020 when cinemas reopened following months of closures due to the Covid-19 pandemic. Sales agent Embankment Films received the grant of £15,155, which will help secure the theatrical release of the film in one specific territory, which has not yet been revealed.
The title receiving the biggest grant of £60,000 is Daniel Kokotajlo's supernatural horror Starve Acre, starring Matt Smith and Morfydd Clark, for which Cornerstone is handling sales. An award of £50,000 has also been secured for Joe Stephenson's Doctor Jekyll by Metro International Entertainment, and positions the classic character as transgender, played by Eddie Izzard.
The funding, which aims to grow exports and global demand for UK independent film, is awarded to the sales companies in the form of non-repayable grants. It will support the international sale, marketing and promotion of the films, which includes increasing the number and value of international sales, increasing international audiences and increasing commercial returns for UK screen companies, rights holders and financiers.
The international co-production funding strand is now open for applications, supporting UK producers to work as partners on international co-productions and help create new global projects. The fund offers non-recoupable grants of up to £300,000 for UK independent companies to apply as minority co-producers for feature films of all genres, and as majority and minority co-producers for TV projects in animation and documentary genre. In its pilot year the fund supported 11 international co-productions.
In total across the pilot year, 75 awards totalling £5.2m were made across the three strands: international distribution, international co-production and international business development. Titles have included Living, The Miracle Club, Enys Men and Good Luck to You, Leo Grande.
UK Global Screen Fund International Distribution awards
A Gaza Weekend
Dir. Basil Khalil
Award: £27,000
The film, set in the Middle East, sees Israel sealed off after the outbreak of a deadly virus, and Gaza the safest place in the region, leaving a British journalist and his Israeli girlfriend trapped on the wrong side of the border. With no one else to turn to, they must entrust two Palestinian street merchants who promise a way out in exchange for much needed cash. This culture-clash comedy adventure from the UK-Palestine team behind the Oscar-nominated short film Ave Maria, and produced by Amina Dasmal for Alcove Entertainment, was selected for the 'Great 8' Showcase at this year's Cannes and is represented by Protagonist Pictures.
Borderland
Dir. The Guard Brothers
Award: £38,400
This thriller follows an Irish paramilitary who witnesses the shooting of his pregnant wife at the hands of an SAS sergeant and goes on a mission to avenge her death. Starring Colin Morgan, Aml Ameen, Felicity Jones and Mark Strong, the film is produced by Upper Street Pictures and is represented by Rocket Science.
Cottontail
Dir. Patrick Dickinson
Award: £37,000
This Japan-UK co-production is a portrait of love, acceptance and family loss starring Lily Franky, Tae Kimura, Rin Takanashi, Ryo Nishikido, Ciarán Hinds and Aoife Hinds. The film is produced by Gabrielle Tana and Carolyn Marks Blackwood for Magnolia Mae Films, Kosuke Oshida for Office Shirous, and Hélène Théolody for Written Rock Films, and is represented by WestEnd Films.
Doctor Jekyll
Dir. Joe Stephenson
Award: £50,000
A modern interpretation of the classic novella that explores characters on two different ends of the economic spectrum and with Dr Jekyll as a transgender character played by Eddie Izzard. Written by Dan Kelly-Mulhern, it also stars Lindsay Duncan and Scott Chambers. The film, produced by Guy de Beaujeu, Joe Stephenson and Liam Coutts is represented by Metro International Entertainment.
Never Forget Tibet
Dir. Jean-Paul Mertinez
Award: £6,800
A documentary in which the Dalai Lama reveals for the very first time the details of his incredible escape into exile in 1959. Narrated by Hugh Bonneville and produced by Compassionate Films, it is represented by Parkland Pictures.
Raven's Hollow
Dir. Christopher Hatton
Award: £7,375
A supernatural thriller inspired by a little-known period in the life of Edgar Allan Poe when he served as a military cadet at West Point. The film stars William Moseley as Poe, Melanie Zanetti, Kate Dickie, and David Hayman as the mysterious inhabitants of a township with a frightening secret to protect. Produced by Caroline Stern, the film had two Marché du Film screenings at this year's Cannes and is represented by Canoe Film.
Starve Acre
Dir. Daniel Kokotajlo
Award: £60,000
A supernatural horror film set in 1970s rural England and based on the novel by Andrew Michael Hurley. Starring Matt Smith and Morfydd Clark, the film is produced by House Productions' Tessa Ross and Juliette Howell, with Emma Duffy. Cornerstone is handling worldwide sales.
Summerland
Dir. Jessica Swale
Award: £15,155
A love story starring Gemma Arterton, Gugu Mbatha-Raw, Tom Courtenay, Penelope Wilton, Lucas Bond and Dixie Egerickx. The film, produced by Guy Heeley and Adrian Sturges, takes audiences on an emotional journey of womanhood and self-discovery, and is represented by Embankment Films.
The Last Breath
Dir. Joachim Heden
Award: £10,000
Written by Nick Saltrese, this thriller is due to start shooting later in summer with casting underway. Produced by Andrew Prendergast for Picaro Films and Chris Reed for Freebie Films, it is represented by Metro International Entertainment.
The Trouble With Jessica
Dir. Matt Winn
Award: £20,800
A black comedy about a successful London couple and their friends who are faced with the moral dilemma of their lives after an uninvited dinner guest does the unthinkable. Starring Rufus Sewell, Shirley Henderson, Alan Tudyk, Olivia Williams and Indira Varma, the film is in post-production; it is produced by Sarah Sulick for Bright Pictures and represented by Parkland Pictures.