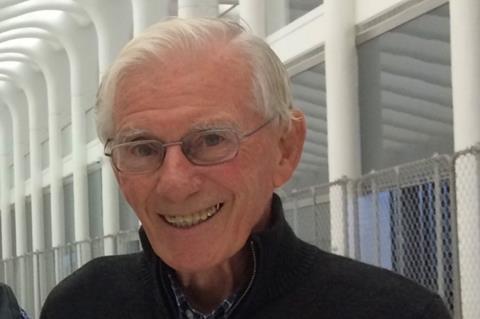 Tributes have been paid to Frank Pierce, the former Warner Bros UK executive and Film Distributors' Association (FDA) president who has died aged 90.
Pierce, who died on October 12 in New York City, spent more than 25 years in theatrical distribution at Warner Bros and was described as a "true gentleman" and a "tough but fair" professional.
Oscar-winning producer David Puttnam was named president of the UK's FDA when Pierce stepped down from the role in 2006, and summed up the high regard in which the industry veteran was held by his contemporaries.
"I was lucky enough to work with Frank for many years; he was the epitome of the 'gentleman distributor' – respected and admired throughout the industry," said Puttnam.
"It was also my good fortune to be invited to succeed him as president of the FDA which, under Frank's leadership, had established itself as one of the film industry's leading trade bodies. A thoughtful, loyal and utterly decent man, Frank will be sorely missed, both personally and professionally."
Mooky Greidinger, CEO of exhibitor Cineworld, likewise spoke of his admiration for the former Warner Bros executive.
"I met Frank some 35 years ago," he recalled. "I was at once enchanted by his professionalism; a high-end executive that knew the business to such detail, like no one else. He knew every aspect of the business and loved the theatrical experience.
"Above all, he was tough but fair, always listened to the counterparty and was a man of his word. I can say that you rarely meet people like Frank."
FDA chief executive Andy Leyshon said: "We were very sad to hear about the passing of Frank Pierce recently. He was a true gentleman, highly-regarded by the UK distribution community and the filmmakers whose works he championed. His contribution to the FDA, and more widely UK and international distribution, was invaluable."
Roles around the world
Pierce was born in Boston, Massachusetts, on April 4, 1930. A former corporal in the US Marine Corps, he began his career in the film business began when he took a job on the sales staff at Columbia Pictures in Chile in 1954.
He went on to work in Panama, Argentina and Mexico for Columbia Pictures before joining Paramount Pictures in 1968 where he was managing director in Rome, Italy. His next major move was to Cinema International Corporation (CIC), where he was supervisor and director for Latin America. He then took up a senior post for CIC in London from 1971-72.
In 1972, Pierce worked in London for Warner Bros, first as vice president of EMEA for Warner Bros Theatrical International Distribution and then, from 1993 to 1998, as senior vice president for EMEA theatrical distributions, Time Warner Entertainment. This was a period when Warner Bros' overseas box office was beginning to outstrip North American revenue.
After leaving the studio, Pierce held the role of FDA president from 1999 to 2006.
Former colleagues spoke of Pierce with affection and reverence.
Rick Senat, formerly Warner Bros' head of business and legal affairs for EMEA and executive producer of the Fantastic Beasts franchise, worked alongside Pierce for many years.
"I first met Frank when I joined Warners in 1977," Senat recalled. "He was old school, very knowledgeable and experienced. He was universally loved and admired by the people who worked for him… they all loved him because he knew what he was talking about."
Senat described Pierce as "honest, direct, hugely experienced and pretty fearless".
Painstaking attention to detail
Pierce had an exhaustive knowledge of UK and international distribution and exhibition, and was heavily involved in the release of films by directors linked to Warner Bros during his tenure, including those of Stanley Kubrick.
Senat sums up the former Warner Bros executive's painstaking attention to detail. At one stage, there had been talk of Warner Bros buying the Cannon cinema chain in the UK and Pierce took it on himself to conduct an investigation of the Cannon sites.
"Frank said 'Pack your bags, we are going on a tour of the Cannon theatres. They want my opinion as to what they're like'," Senat recalled.
"Frank would go in [to a cinema]. He would observe how the ticket office was working. He could just smell whether there was any funny business going on. We would go into the theatres to look at the state of the carpets and the chairs. Then he would disappear, going into the loos to see if they were clean.
"I'd see him sitting down. As he sat down, he ran his fingers over the back of the seat. In those days, the seats were folded up. He'd put his finger around the back and underneath it (the seat) and then he would look at his finger to see if there was dust on it. This is a guy who was elegant in his own way but here he is, checking the toilet of every place we went to. It was like a routine. There were about 50 different theatres."
Pierce is survived by his wife, Jeanne, and children, Michael, Elizabeth, Mark, Christine and Julie.