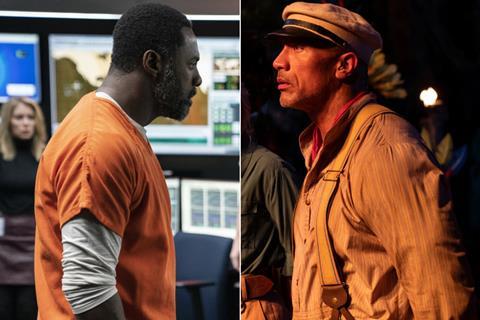 Two blockbuster titles are vying for supremacy at cinemas in the UK and Ireland this weekend, as The Suicide Squad opens for Warner Bros against Jungle Cruise for Disney.
Opening in 643 sites, The Suicide Squad is the 10th film in the DC Extended Universe of films based on DC Comics characters. It is a standalone sequel to 2016's Suicide Squad, with a separate narrative but some of the same characters.
David Ayer, director of the first title, was set to return before switching to development on a film about the Gotham City Sirens. Gavin O'Connor also took over the directorial reins temporarily; before Guardians Of The Galaxy director James Gunn, who at the time had ended his deal with Disney over controversial tweets from his past, signed on in 2018 (he has subsequently returned to the Disney Marvel fold too, and will shoot Guardians Of The Galaxy Vol. 3 later this year in the US).
This entry sees supervillains Harley Quinn, Bloodsport and Peacemaker unite with prisoners at Belle Reve prison to join the super-secret Task Force X.
The 2016 first film, while unpopular with critics, opened to a strong £11.3m, ending on £33.6m for Warner Bros.
Margot Robbie, Viola Davis, Joel Kinnaman and Jai Courtney all return, alongside new additions Idris Elba, John Cena, Peter Capaldi and Pete Davidson.
Although continuing social distancing restrictions in many cinemas may affect takings, Warner will hope that Gunn's box office pedigree will push the second film well into eight-figure territory.
He helmed 2014's Guardians Of The Galaxy to a £6.4m opening and £28.5m cume; before going even bigger with the 2017 sequel, which opened to £13.1m and closed on a huge £41m.
His prior directorial features include 2006's Slither (£1.2m for Entertainment Film Distributors) and 2011's Super (£20,311 for G2 Pictures); while he was an executive producer on Marvel megahits Avengers: Infinity War and Avengers Endgame.
Battling the Squad this weekend is Disney's Jungle Cruise in 580 locations. The film is based on the Disneyland theme park ride where a small riverboat takes a group of travellers through a jungle filled with dangerous animals and reptiles, plus a supernatural element.
Dwayne Johnson, Emily Blunt, Edgar Ramírez, Jack Whitehall, Jesse Plemons and Paul Giamatti head the cast.
Spanish-American filmmaker Jaume Collet-Serra has directed the film; his previous films, which include 2005's House Of Wax, 2011's Unknown and 2016's The Shallows, usually end in the £1m-£5m range, with a high point being 2014's Non-Stop starring Liam Neeson, which opened to £2.7m and ended on £9.5m.
Jungle Cruise should move past that figure boosted by its starry cast and theme park genesis.
The Sparks Brothers
Universal is opening Edgar Wright's music documentary The Sparks Brothers, charting the career of the eccentric, esoteric pop band Sparks, in 83 locations, following a special screening in 301 locations on Thursday July 29 when the film opened the Sundance London film festival.
It is Wright's first foray into feature documentaries. He is best known for his Cornetto trilogy of comedies, of which the highest-grossing was 2007's Hot Fuzz with £21.1m; as well as 2010's Scott Pilgrim Vs. The World (£5.4m) and 2017's Baby Driver (£13.1m). His latest fiction effort, Last Night In Soho, is debuting at Venice in September out of Competition, before a UK-Ireland release on October 29.
Universal also has Elaine Bogan and Ennio Torresan's family animation Spirit Untamed, about a girl who moves to a small frontier town and befriends a wild horse named Spirit, in 517 locations.
Mubi is distributing Ben Sharrock's Limbo theatrically this weekend. It is Sharrock's second feature after 2015's Pikadero, and centres a young Syrian musician who ends up separated from his family on a remote Scottish island, awaiting the fate of his asylum request.
The film received Bafta nominations for outstanding British film of the year for Sharrock and producers Irune Gurtubai and Angus Lamont; plus outstanding debut by a British writer, director or producer for Sharrock and Gurtubai.
Gurtubai also won the 2020 Bifa for breakthrough producer for the film, as one of four nominations it received at the ceremony.
The Most Beautiful Boy In The World, Kristina Lindstrom and Kristian Petri's documentary about Bjorn Andresen's role in Lucino Visconti's 1971 film Death In Venice and the effect it has had on Andresen's life, opens in 21 locations through Dogwoof, including playing at Sundance London.
Key holdovers include Disney's Black Widow, which has held the top spot for three weeks; M. Night Shyamalan's Old for Universal; and sequels Space Jam: A New Legacy for Warner Bros, and The Croods 2: A New Age for Universal.