Statement from star Sylvester Stallone says: "It is important to protect the rights of creatives".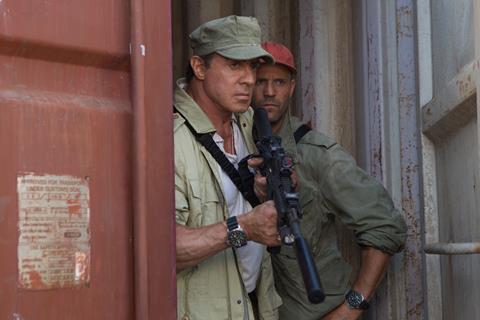 Detectives from the UK's Police Intellectual Property Crime Unit (PIPCU) have arrested a man on suspicion of leaking top hit movies, including The Expendables 3, on the internet.
In a joint investigation with the US Immigration and Customs Enforcement's (ICE) Homeland Security Investigations (HSI) and the Motion Picture Association of America (MPAA) the City of London Police unit arrested the 26-year-old at his workplace in Leeds yesterday morning (March 9) before taking him to a local police station for questioning.
The suspect is believed to be involved in obtaining high-quality films, which are either only available at the cinema or are unfinished movies which have yet to be released, and then leaking them on to the internet. A statement from the Police said it is estimated his actions are costing the industry millions of pounds.
Officers from PIPCU and HSI searched the man's home in Halifax where several computers and mobile devices were seized.
Sylvester Stallone, who starred in and co-wrote The Expendables 3, said: "I'd like to thank the Police Intellectual Property Crime Unit (PIPCU) at the City of London Police for working with US Homeland Security Investigations to apprehend the suspect in this case.
"It is important to protect the rights of creatives around the world from theft."
PIPCU is a specialist national police unit dedicated to protecting the UK industries that produce legitimate, high quality, physical goods and online and digital content from intellectual property crime.
The operationally independent unit was launched in September 2013 with funding from the Intellectual Property Office (IPO). The unit is based within the Economic Crime Directorate of the City of London Police, the National Policing Lead for Fraud.
City of London Police Detective Inspector, Mick Dodge, said: "Today's operation demonstrates the international remit of the Police Intellectual Property Crime Unit (PIPCU). PIPCU has a remit to protect the UK's creative industries but we are also committed to ensuring the UK is not a safe haven for criminals seeking to attack international businesses from our shores.
"Working with law enforcement partners across the world, PIPCU is coming down hard on criminals exploiting intellectual property for their own financial gain and today's action should serve as a warning to online pirates.
"This joint investigation also demonstrates our close working relationship with the US Homeland Security Investigations (HSI) which was recently marked with the signing of a Memorandum of Understanding."
Matthew Etre, U.S. Embassy London's Attaché for US Homeland Security Investigations (HSI) said: "Tackling virtual piracy remains a top priority for law enforcement. Too often these types of crimes are regarded as immaterial because they are seemingly without victims; however, when a business suffers a loss, it is felt at all levels, from the C-suite to the mailroom.
"In cases such as this, preventing piracy is akin to protecting people's livelihoods. This arrest is yet another success story highlighting what strong, collaborative relationships between law enforcement agencies can accomplish. HSI London values its relationship with the PIPCU and continues to work closely with them to battle against intellectual property crime."
Thursday's arrest stems from a probe initiated in July 2014 by HSI special agents in Los Angeles after the agency received a tip regarding possible movie piracy from film industry representatives.