EXCLUSIVE: Ukraine film industry set to receive fivefold cash injection and first rebate scheme.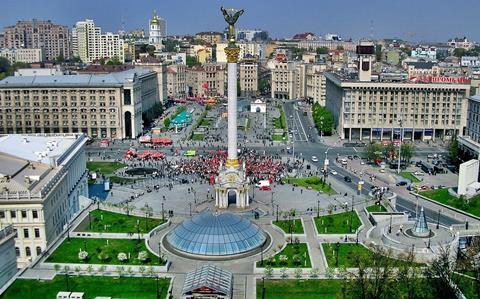 Ukraine's new Cinema Law could see a massive cash injection for the State Film Agency and the introduction of a cash rebate scheme from 2017.
Speaking at the fifth edition of the Odessa International Film Festival's Film Industry Office this week, Philip Illienko, head of the Ukrainian State Film Agency, explained that the Cinema Law had already passed its first reading in the national parliament and is expected to be finally adopted in a second reading this autumn.
¨The provisions [of the new Law] will be revolutionary for our industry and we will say goodbye to many Soviet elements which have still existed [in the flm funding legislation],¨ Illienko said.
According to the draft law going through parliament, the Film Agency would expect to receive financial support equal to 0.2% of Ukraine's state budget from 2017, which would be equivalent to $55.2m (€50m), a substantial increase on the Film Agency's current annual budget of $11m (€10m).
In the future, the Film Agency's portfolio of funding measures will include support for constructing cinemas in smaller towns outside of major cities in addition to its production funding programmes.
¨There will also be support for the promotion and advertising of films on a larger scale,¨ Illienko added.
Joining the cash rebate club
2017 should also see Ukraine joining the club of countries offering cash rebates to incoming foreign productions.
The Film Agency aims to offer a 25% rebate to foreign producers on their spend in Ukraine. In addition, if foreign talent have to pay taxes on their remuneration in Ukraine, producers will be able to receive 10% back through the local Ukrainian partner.
The Ukrainian plans come after cash rebates were introduced recently in Georgia and Estonia to promote film production.
Andrey Zvereev, CEO of the Odessa Film Studio, which was hosting the Film Industry Office's programme of seminars and pitchings for the fifth year running, observed that it was ¨a miracle that the state has listened to the industry to draw on the best experience and practice from the world for the Ukrainian market.¨
Illienko pointed out that the Ukrainian film industry is ¨going through a painful process of change¨, but the latest positive developments with the future Cinema Law was thanks in large part to a fruitful collaboration with the non-profit initiative #KinoKraina (#FilmCountry), the main goal of which is to facilitate the development of the local film and TV industry and to raise interest in Ukraine as an attractive shooting location.
The initiative's members including such key players as StarLightMedia, Film.UA Group, Star Media, Odessa Film Studio, Interlight Media, and Studio Kvartal 95.
Plans for film commission
The Film Agency will also be encouraging a debate for the need to create a network of film commissions within Ukraine in such cities as Kiev, Odessa and Lvov to promote Ukraine as a film location for international productions.
CEO lllienko revealed in Odessa that a three-day workshop will be organised in September in Truskavets to examine the practical aspects of collaboration between film commissions, local authorities and the film industry.
As a first step, #FilmCountry has launched a website - location4film.com.ua - to promote the range of locations available in Ukraine.
Production boom
Turning to the current state of production in Ukraine, Illienko said that more than 50 films are currently in production - including 20 feature films - and the Film Agency is likely to approve funding this year for another 35 projects after a record number of over 170 submissions to the last call for projects.
As the Ukrainian newspaper Vest reported this week, genre is high on the agenda for domestic film and TV producers with such productions as the mystical horror film Chunguli by the brothers Alexandr and Vyacheslav Alyoshechkin who had already made a foray into this genre in 2013 with the first Ukrainian 3D horror film Synevir; the political satire Nedoturkani by actor-director Alexey Kiryushchenko; and the melodrama TV series Vostochniye Sladosti as a co-production with Turkey and Poland with an international cast.
From Khudojnazarov to Djordjadze
New projects by the Oscar-nominated Georgian director Nana Djordjadze (A Chef In Love) and the late Tadzhik filmmaker Bakhtiar Khudojnazarov (Luna Papa) are among ten Ukrainian films or co-productions with Ukraine being presented at the Film Industry Office's pitching forum this week.
Industry attendees at the pitching session include Global Screen/Cinepool's Thomas Weymar, Loco Films' Laurent Danielou, Alpha Violet's Virginie Devesa, Medienboard Berlin-Brandenburg's Brigitta Manthey, Connecting Cottbus' Rebekka Garrido, as well as producers Guillaume de Seille (Arizona Films), Dariusz Jablonski (Apple Film) and Evgeny Gindilis (tvIndie) as well as festival representatives from Tallinn, Cottbus, Gothenburg and Vilnius.
Djordjadze's Kostya's Office - which will be shot in Kiev and Odessa - is already structured as a co-production between Ukraine and Georgia, while Khudojnazarov's unfilmed screenplay of Halola is set to be directed by fellow Tadzhik filmmaker Iskandar Usmonov as a co-production between Ukraine, Germany, France, Tadhikistan and Iran.
In addition, 11 Ukrainian films or co-productions are due to be presented today (Friday) as works in progress at Odessa's industry platform, including the Ukrainian-Belgian-French co-production, the family fantasy Polina, by Olias Barco, which was shooting in Kiev at the end of last year, and Georgi Fomin's black comedy Deadman's Path, structured as a co-production between Ukraine and Poland.