Ukrainian filmmaker Oleg Sentsov has been sentenced to 20 years in a verdict passed today (Aug 25) by a military court in Russia's Rostov-on-Don.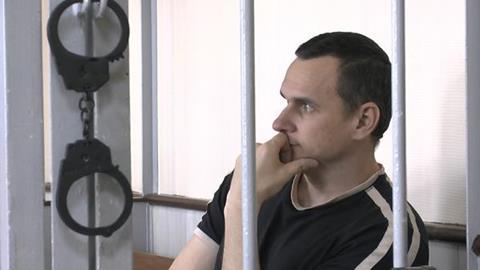 His co-defendant, the activist and anti-fascist Alexander Kolchenko, was sentenced to 10 years.
The judge found Sentsov guilty of setting up a terrorist organisation and committing two terrorist acts.
When asked by the presiding judge Sergei Mikhailyuk whether they understood the verdicts, Sentsov and Kolchenko responded by defiantly singing the Ukrainian national anthem Ukraine Has Not Yet Died.
Sentsov, best known for his 2011 film Gamer, was arrested in May 2014 during a protest against Russia's annexation of the Ukrainian peninsula two months earlier.
The 39-year-old director was accused of plotting to blow up a monument to Lenin in Crimea and set fire to the Crimean offices of pro-Moscow political organisations.
The Ukrainian government said he is being punished for being a Crimea-based pro-Ukrainian activist. Russia denies claims he is a political prisoner.
Sentsov denies the charges against him and his cause has been taken up by the European Film Academy, winning support from directors including Mike Leigh, Stephen Daldry and Pedro Almodovar.
After meeting Sentsov yesterday (Monday), his cousin Natalya Kaplan said the filmmaker had not been "under any false illusions" about the outcome.
The proceedings were monitored by Ukraine's Consul-General in Rostov-on-Don, Vitaly Moskalenko; a representative of the Ukrainian branch of Amnesty International; and observers from the diplomatic missions of the UK, France and the European Union based in Russia.
Demonstrations are planned to be held near Russian Embassies in Paris, Stockholm, Warsaw today in solidarity with Sentsov and Kolchenko, with another staged in Kiev outside the Russian Embassy as the verdict was announced.
Sentsov: in his own words
On the last day of his trial last week, Sentsov had made a defiant statement calling cowardice "the greatest sin on Earth" and called on the more enlightened citizens of Russia to start to "learn how not to be afraid".
"I have now spent a year in your wonderful country and watched your television. The [news] programmes Vestiy, Vremya, are really very good programmes…. Your propaganda works excellently," Sentsov said.
"I believe that most of the population believes what it's being told. That Putin is a great chap, there are fascists in Ukraine, Russia is doing everything correctly, that there are enemies all around."
He suggested there is "one third of the population of Russia that is fully aware of what is happening, doesn't believe the tall tales of your agitrop, who understands what is happening in the world, and what terrible crimes are being committed by your government.
"But these people are afraid for some reason. They think that nothing can be changed, that everything will stay as it is, you can't break the system. You are just one, there are few of us, they throw us all into prison, beat and destroy us. And sit in hiding like mice."
Sentsov recalled that Ukraine "also had a criminal regime, but we came out against it. They didn't want to listen to us — we beat on trash cans. They didn't want to see us — we set tires on fire. In the end, we won.
"The same thing will happen with you, sooner or later. I don't know what form it will take and I don't wish to see anyone suffer. I simply wish for you to no longer be governed by criminals.
"In short, all I can do is wish that this third, informed portion of the Russian population will learn how not to be afraid."
German Film Academy joins EFA appeal
Fatih Akin, Tom Tykwer, and Veronica Ferres are among members of the German Film Academy who supported the European Film Academy's open letter to President Putin and the Russian authorities asking for Sentsov to be released.
The signatories also included veteran DoP Michael Ballhaus, honorary member Dieter Kosslick, directors Vanessa Jopp, Hermine Huntgeburth, and Hans-Christian Schmid as well as actors Clemens Schick, Daniel Brühl, Corinna Harfouch, Sebastian Blomberg, and the producers Oliver Damian, Alexandra Kordes, Benjamin Herrmann, Hans W. Geissendörfer, and Titus Kreyenberg.