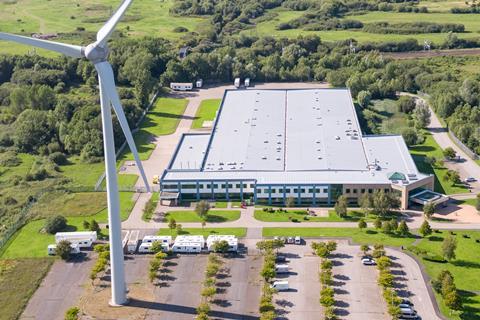 UK finance and sales outfit Great Point Media has invested in a £6m virtual production hub at Great Point Seren Studios in Cardiff, Wales, with plans for the facility, Seren Virtual Productions, to be available for use by productions from autumn 2023.
The facility is a collaboration with media advisors Fields Park, US-based specialists in virtual production construction Volume Global and Media Cymru, a government and industry-backed collaboration of organisations that aims to promote the growth of Cardiff's media industries.
London-based Great Point Media took over the lease of the studios that will host the virtual production hub in 2020 from Pinewood. It was built in 2015.
In addition to hosting feature film and high-end television projects from across the UK and internationally, the facility will comprise a virtual production research and training academy in collaboration with Media Cymru, to help the ongoing development of the region into a global hub for media innovation, with a key focus on emergent and green technologies.
Seren Virtual Productions aims to support all aspects of virtual and physical production, including a range of LED volumes, a type of set design based on the use of LED panels.
The entire Great Point Seren Studios (previously known as Pinewood Studio, Wales) complex is powered by green electricity, generated on-site by a dedicated wind turbine. It has hosted Gareth Evan's Netflix action-thriller, Havoc, starring Tom Hardy, and BBC and HBO series Industry.
Jim Reeve, Great Point Media's co-founder and CEO said: "LED walls and virtual production workstreams are already beginning to reshape the business of making films and television programmes. We want to keep pace with that innovation to ensure that we can offer any production the facilities and systems required to meet their diverse and changing needs."
Sara Pepper, deputy director of Media Cymru, added: "The development of a world-class virtual production studio and training and research facility at Seren will have a profound impact on the media cluster in the Cardiff Capital Region and a ripple effect throughout Wales and the UK. It signals a clear ambition: to provide a high-end facility which will attract interest from content creators across the globe."
Great Point Media was founded in 2013 by Jim Reeve and Rob Halmi. To-date, Great Point Media has invested more than £500m in the creative industries worldwide.
Halmi, with partner Fehmi Zeko, manages US-based The Studio Fund, which heads up US production facilities including Lionsgate Studios in Yonkers, New York and Lionsgate Studios in Newark, New Jersey, with more in the pipeline.