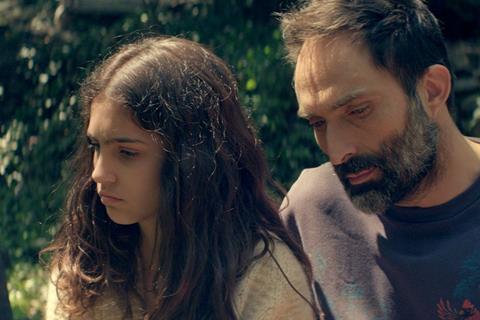 The UK's Raindance Film Festival has revealed the line-up for its 2018 edition (September 26-October 7), with over 80 features and 99 shorts screening at the festival.
The programme includes 31 world premieres, 28 international premieres, 21 European and 81 UK premieres.
The festival will open with the UK premiere of Marialy Rivas' Chilean drama Princesita about a girl growing up in a cult. It premiered at TIFF in 2017 and is produced by Juan de Dios Larrain's Fabula.
According to the festival, it received a record 8,929 submissions from 118 countries.
The programme includes a director's cut of 2017's George Michael: Freedom, directed by the late singer and David Austin, which will play as the festival's Gay Times special screening. The new version features over 30 minutes of new material including private footage, performances and insight from Michael's friends.
Also screening is the UK premiere of Louis Myles' doc Kaiser: The Greatest Footballer Never To Play Football, about a man who escapes a childhood in poverty to fake a life as a football superstar; and the world premiere of Oliver Clark and Blair Macdonald's Team Khan, a fly-on-the-wall documentary about UK boxer Amir Khan.
The international film competition includes opening film Princesita as well as the world premiere of Lauren McKenzie's UK thriller We The Kings, about a fostered teenager with a vendetta against the former guardian of his foster brother.
Further world premieres include Jay Alvarez's Dizzy Pursuit, executive produced by Avengers: Infinity War directors Anthony and Joe Russo.
The Raindance Immersive Stories and Interactive Worlds strand will host 33 VR experiences, including the world premiere of Judi Dench: My Oak Tree VR, which explores a 200-year-old oak tree in the garden of the UK actor, and the psychological thriller Transference, co-directed by Elijah Wood.
Further highlights include a queer film strand, and a masterclass from filmmaker Allison Anders.

Festival jury
The main competition jury includes UK actors Ray Winstone, Jonathan Pryce, Carmen Ejogo, Juliet Stevenson, Rufus Sewell, Sienna Guillory, Judi Shekoni, and Rogue One: A Star Wars Story director Gareth Edwards.
Also on the jury is Irish dancer Michael Flatley; Screen exclusively revealed the first image from his directorial debut Blackbird, which wrapped production earlier this year.
Chile is the guest country for this year's festival, with events including a panel discussion with experts from the Chilean film industry, and an 'Anatomy of a Reel' presentation from Gonzalo Maza, writer of A Fantastic Woman, the Chilean winner of this year's Oscar for best foreign language film.
Raindance 2018 programme
Best international film
Princesita - dir. Marialy Rivas (Chile, Arg, Sp)
Family - Veronica Kedar (Isr, Ger)
Love At Least - Kosai Sekine (Jap)
When Margaux Meets Margaux - Sophie Fillières (Fr)
We - Rene Eller (Neth, Bel)
A Crimson Star - Aya Igashi (Jap)
The End Of Wind - Fog Forest (China)
Saint Judy - Sean Hanish (US)
Saviours - Christopher Greenslate (US)
M - Sara Forestier (Fr)
Best UK feature
George Michael: Freedom – Director's Cut - George Michael, David Austin (UK)
Team Khan - Oliver Clark, Blair Macdonald (UK)
Kaiser! The Greatest Footballer Never To Play Football - Louis Myles (UK)
We The Kings - Lauren Mackenzie (UK)
Nightshooters - Marc Price (UK)
Best director
Princesita – Marialy Rivas
Family – Veronica Kedar
When Margaux Meets Margaux – Sophie Fillières
The End Of Wind – Fog Forest
We – Rene Eller
Best performance
We The Kings – Timothy West
When Margaux Meets Margaux – Sandrine Kiberlain
Saint Judy – Michelle Monaghan
Princesita – Marcelo Alonso
Princesita – Sara Caballero
Best script
When Margaux Meets Margaux – Sophie Fillières
Princesita – Camila Gutiérrez, Marialy Rivas
Family – Veronica Kedar
The End Of Wind – Fog Forest
We The Kings – Lauren Mackenzie
Best cinematography
Princesita – Sergio Armstrong
When Margaux Meets Margaux – Emmanuelle Collinot
Family – Christian Huck
Team Khan – Oliver Clark, Asad Faruqi, Blair Macdonald
We – Maxime Desmet
Best discovery
Ana By Day - Andrea Jaurrieta (Sp)
Borders, Raindrops - Nikola Mijović, Vlastimir Sudar (Bos & Herz, Mont, Serb, Swe, UK)
Silent Night - Piotr Domalewski (Pol)
Ederlezi Rising - Lazar Bodroza (Serb)
We The Coyotes - Hanna Ladoul, Marco La Via (US)
Best documentary
Ballet Now - Steven Cantor (US)
Nossa Chape - Jeff Zimbalist, Michael Zimbalist (Braz, Col, Sp)
The Artist & The Pervert - Beatrice Behn, René Gebhardt (Ger)
Tre Maison Dasan - Denalie Tiller (US)
Rumble: The Indians Who Rocked The World - Catherine Bainbridge (Can)
Best international short
Souls Of Totality
June 21
Imfura
The Last Day Of The Empire
Clean Blood
Best UK short
Thawed
Little Monster
Landsharks
Ellston Bay
Alien Culture