Distributor becomes the first to record the first, second and third chart positions, as Minions holds off Ted 2.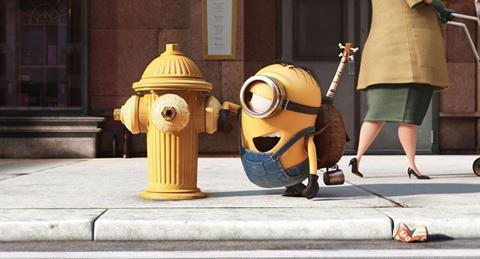 UNIVERSAL
Not content with its films setting records, Universal has become the first ever distributor to achieve a 1-2-3 treble at the top of the UK box office.
Minions retained its UK lead with a superb $6.5m (£4.15m) third weekend for $43m (£27.6m) to date.
It is now tracking ahead of Despicable Me 2, which stood at $42.1m (£27.1m) at the same stage and with extra days due to previews.
It also means that Minions is now the year's biggest animation, topping Fox's Home, and it has a further week to prosper before the arrival of Disney's Inside Out on July 24.
The 1-2-3 record for Universal may have softened the blow of Ted 2's disappointing debut as the comedy sequel landed with $6m (£3.9m), including $1.9m (£1.2m) in previews, from its 549 sites.
That's less than half the $14.5m (£9.3m) bow of Ted which included $5.3m (£3.4m) in previews. Its soft critical response will likely see Ted 2 struggle to also match even half of Ted's final UK result of $47.3m (£30.4m).
And Universal's domination of this week's chart was completed by Jurassic World as it roared to a extra $2.9m (£1.85m) for a monstrous $88.9m (£57.1m).
It will shortly become the tenth biggest film of all time, currently The Lord of the Rings: The Two Towers with $89.6m (£57.6m).
PARAMOUNT
Falling 45% (excluding previews), Paramount's Terminator Genisys shot to a further $2.6m (£1.67m) for $11.3m (£7.31m) to date.
Realistically, its only potential target is Terminator Salvation's $22.1m (£14.2m) result, but even that is likely to prove a step too far.
WARNER BROS
Magic Mike XXL dropped around a third on its way to a $1.5m (£954,000) second weekend for $6.2m (£4m) through Warner Bros.
It will need a sturdy hold and healthy midweek numbers to have a hope of challenging Magic Mike's $13.1m (£8.4m) tally.
ALTITUDE FILM DISTRIBUTION
Boosting 5% (excluding previews) after expanding to 214 sites nationwide, Altitude Film Distribution's Amy took an additional $648,000 (£417,000) for $2m (£1.29m) to date.
Amy will become the sixth biggest non-concert documentary of all time tonight, overtaking TT3D's $2.1m (£1.34m), and it should be challenging Bowling for Columbine's $2.6m (£1.67m) as the fifth biggest by the end of this week.
This would also see it break into the top ten documentaries of all time.
FOX
Secret Cinema's production of The Empire Strikes Back crossed £2m in the sixth week of its run through Fox as a $447,000 (£287,225) weekend lifted it to $3.4m (£2.2m).
Also for Fox, Spy added $273,000 (£175,316) for $15m (£9.7m) to date and still has a shot at £10m, as Home reached $38.4m (£24.7m).
SONY
Love & Mercy was off-key on its UK debut, grossing $158,000 (£101,589) from its 128 sites. Sony will be hoping its older-skewing audience will lead to more robust midweek returns.
STUDIOCANAL
Critically acclaimed Oscar nominated animation Song of the Sea recorded a non-final UK opening of $113,000 (£72,392), including $23,000 (£14,506) in previews, from its 105 sites through StudioCanal.
CURZON FILM WORLD
Achieving the best-ever UK debut for director François Girard, Curzon Film World's The Choir grossed $35,000 (£22,784) from its 36 sites.
THE NEW BLACK FILM COLLECTIVE
Having received backing from the BFI [see separate story here], The New Black Film Collective's well-received Dear White People posted a UK debut of $27,000 (£17,560) from its 18 sites, including $12,000 (£7,500) in previews.
NEW WAVE FILMS
With a handful of shows across its eight sites, New Wave Films' P'Tit Quinquin took $3,600 (£2,322) on its UK debut, marking the second best opening for director Bruno Dumont behind Hors Satan.
SODA PICTURES
Released in four sites through Soda Pictures, The Reunion posted a UK bow of $2,300 (£1,495).
UPCOMING RELEASES
This week sees saturation releases for Disney's Ant-Man, Entertainment's Self/less and Fox's True Story.
Warner Bros' The Gallows receives a wide release, while Curzon Film World's Salt of the Earth, Soda Pictures' The Wonders and StudioCanal's 13 Minutes are among the films receiving a limited release.