Lionsgate's awards season heavyweight is getting the large screen format treatment from January 13.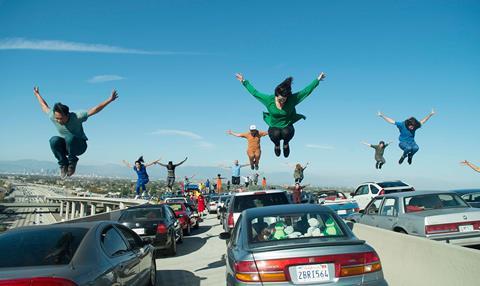 La La Land, in the running for seven Golden Globes on Sunday including best musical or comedy film and best actress and actor for Emma Stone and Ryan Gosling, will screen in a digitally remastered version.
Thus far the film has grossed $40.4m in North America and a further $27.8m internationally. It opened in Imax in South Korea last month.
Producer and branding expert Niels Juul will serve as consultant to Italy's Cecchi Gori Pictures and affiliate Cecchi Gori USA, new CEO Andrew De Camara announced this week. Cecchi Gori, which filed for Chapter 11 bankruptcy in the US last month, settled a legal spat with Martin Scorsese over Silence in 2014 and famously produced Il Postino and Life Is Beautiful. The development pipeline includes Ferrari, The Easy Life and Kafka.
Thirty-two writers including Nate Parker for The Birth Of A Nation, Robert Schenkkan for Hacksaw Ridge and Kenya Barris for TV's Black-Ish are competing for the 42nd Annual Humanitas Prize. The winner will receive $100,000 at the annual lunch in Beverly Hills on February 22. The award was established in 1974 to honour film and television writers whose work inspires compassion, hope and understanding in the human family.
BBC Earth has struck a partnership with Oculus to launch three virtual reality experiences inviting users to step into the lives of animals: a caracal cat, an oogpister beetle and a black bear. All three experiences will be released separately on Oculus Rift and Samsung Gear VR platforms this month and be available download free for the first three months.
Paul Richardson has been appointed the first COO of CJ CGV Americas, subsidiary to South Korean exhibitor CJ CGV. Richardson previously served as president and CEO of Sundance Cinemas and before that served in the same roles at Landmark Theaters. CJ CGV Americas operates a thee-screen cinema in Koreatown in Los Angeles and has nearly completed an eight-screen complex in Buena Park, California, set to open on January 27.