Plus: FilmBuff acquires world on 'Who's Driving Doug'; and more…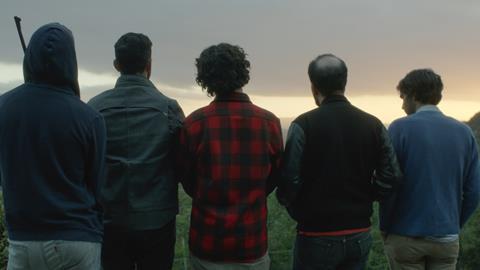 StarStream has promoted Lauren Russell to vp of production and development. Russell was a key figure in bringing three productions to Sundance: Jeff Beana's Joshy (pictured), Kevin Smith's Yoga Hosers and Frankie Shaw's short film Too Legit.


FilmBuff has picked up worldwide rights to David Michael Conley's Who's Driving Doug that will premiere at the Santa Barbara International Film Festival on February 5 ahead of launch in select theatres and VOD on February 26. RJ Mitte of Breaking Bad, Pamela Kwiatkowski of Bates Motel and Ray William Johnson of The Equals Three Show star. Jake Hanley of FilmBuff negotiated the deal with Nicola Carbonetta and David Katz.


Jim Gaffigan has been cast in one of the lead roles of Original Force Animation's first feature Duck Duck Goose alongside Carl Reiner and the previously announced cast of Stephen Fry, Zendaya, Jennifer Grey, Molly Shannon, Lance Lim, Greg Proops, Diedrich Bader, and Rick Overton. Christopher Jenkins of Home fame directs the feature.


After capital investment from Fairfax Financial, Temple Street Productions has created parent company Boat Rocker Media to house content creation across all platforms. Under Boat Rocker will be Boat Rocker Studios, Boat Rocker Ventures, Boat Rocker Rights, Boat Rocker Brands, and Boat Rocker Animation. Headquarters reside in Toronto with offices in New York and Los Angeles. David Fortier and Ivan Schneeberg are co-executive chairmen and John Young is CEO of Boat Rocker Media.


Daniel Barnz, Catherine Hardwicke, and James Ponsoldt have been selected to mentor Film Independent's 16th annual Directing Lab. The 2016 Directing Lab projects include: Jules Nurrish's Clinch, Blaise Godbe Lipman's In the Shadows Of The Rainbow, Danny Jacobs and Darren Grodsky's Midwestern, Roja Gashtili and Julia Lerman's Rita Mahtoubian Is Not A Terrorist, Maggie Kiley's Skin Deep, and Rani DeMuth's Up With The Joneses. Click here for further details.