Plus: Casting Society of America to honour Danny Boyle and others; Toronto's Markham Street Films makes key hire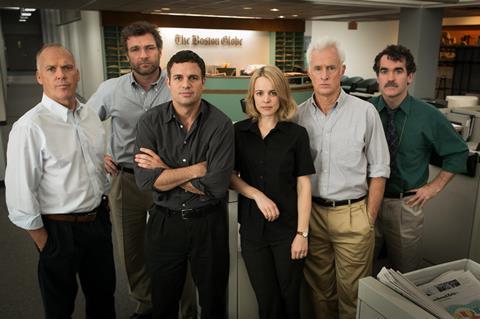 Spotlight stars Michael Keaton, Mark Ruffalo and Rachel McAdams will receive the 2016 American Riviera Award at the 31st edition of the Annual Santa Barbara International Film Festival, which runs from February 3-13.
This marks the first time three actors will receive the award, which recognises "actors who have made a significant contribution to American Cinema."
CBS Films, Participant Media and James Patterson have added cast to Middle School. Joining Griffin Gluck are Lauren Graham, Rob Riggle, Thomas Barbusca, Andrew Daly, Adam Pally, Efren Ramirez, Isabela Moner and Alexa Nisenson. Steve Carr will direct based on Patterson's books about the trials and tribulations of a school student. Patterson produces and co-finances alongside CBS Films and Participant Media. CBS will open theatrically in the US in partnership with Lionsgate on October 7, 2016. Lionsgate International commenced pre-sales at the AFM.
The Casting Society Of America will honour Danny Boyle (Steve Jobs) with the Career Achievement Award, casting director Bernard Telsey (Into The Woods) with the Hoyt Bowers Award and writer-producers Michelle and Robert King (The Good Wife) with the New York Apple Award. The 31st Artios Awards gala takes place on January 21, 2016.
Co-presidents Judy Holm and Michael McNamara of Toronto production company Markham Street Films has appointed Aaron Hancox as vice-president of Unscripted.