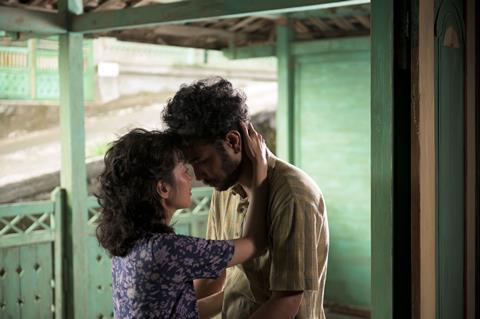 Indonesia's Edwin has received Locarno Film Festival's top honour, the Golden Leopard, for his latest feature Vengeance Is Mine, All Others Pay Cash, which had its world premiere in the Swiss festival's International Competition.
The Indonesia-Singapore-Germany co-production – adapted and based on a literary work by Eka Kurniawan – is being handled internationally by The Match Factory.
It is also the first time in Locarno's 74-year history that the Golden Leopard has gone to a filmmaker from Indonesia.
Accepting the award on behalf of Edwin, who had already returned home to Jakarta and is now in quarantine, one of the film's producers Muhammad Zaidy said: "We would love to dedicate this to the Southeast Asian cinema, especially during this very hard situation when we are battling in Asia with the pandemic, and we hope this gives a boost of hope for all of us."
In a video message broadcast at the ceremony, Edwin added: "I hope Southeast Asian cinema is always bringing us a lot of colours and flavours and, most importantly, always dares to speak out against injustice or anything that kills our humanity."
During the awards ceremony which was held for the first time on a Saturday afternoon (August 14) at the GrandRex cinema, the international jury headed by US director Eliza Hittman presented the Leopard for best direction to veteran filmmaker Abel Ferrara for Zeros And Ones, and the special jury prize to Qiu Jiongjiong for his first fiction feature A New Old Play.
The Leopard for best actress went to Russia's Anastasiya Krasovskaya for her role in Natalya Kudryashova's Gerda. The best actor prize went to the real-life plumbers Mohamed Mellali and Valero Escolar for their performances in Neus Ballús' The Odd-Job Men.
The international jury gave special mentions to The Sacred Spirit and Soul Of A Beast.
Filmmakers of the Present
The three-women jury for the Filmmakers of the Present competition - French actress Agathe Bonitzer, US-Laotian filmmaker Mattie Do and Rotterdam festival director Vanja Kaludjercic - gave its Golden Leopard for best film to Francesco Montagner's documentary Brotherhood about toxic masculinity and terrorism, which is being handled internationally by Leipzig-based sales company Deckert Distribution.
The Pardo for best actress went to Germany's Saskia Rosendahl for her performance in Sabrina Sarabi's second feature No One's With The Calves, with best actor going to Georgia's Gia Agumava for his first acting role in Elene Naveriani's Wet Sand.
The best emerging director award was presented to Belarussia's Hleb Papou for The Legionnaire, while the special jury prize offering a promotional campaign worth CHF 25,000 ($19,695) at the time of its theatrical release in France went to Emilie Aussel's Our Eternal Summer.
First Feature Award
The Swatch First Feature Award went to UK artist and filmmaker Charlotte Colbert's She Will, which stars Alice Krige, Malcom McDowell, Rupert Everett and had its world premiere in the festival's Out of Competition section. A special mention went to Araceli Lemos' Holy Emy.
Independent Juries Awards
The awards ceremony for the independent juries was then held at the festival's open-air Rotonda venue an hour after the main juries had unveiled their prize-winners.
The Ecumenical Jury headed by S. Brent Rodriguez-Plate gave its award to Swiss director Lorenz Merz's Soul Of A Beast which was produced by Hesse Film and will be distributed in Switzerland by Ascot Elite Entertainment.
The Fipresci prize for a film in the main competition went to writer-director Bertrand Mandico's After Blue (Paradis sale) which is handled internationally by Kinology, while the jury of four European exhibitors from the Europa Cinemas network awarded this year's Europa Cinemas Label The Odd-Job Men which is being sold by Beta Cinema.
The independent sidebar Semaine de la Critique, organised by the Swiss Association of Film Journalists in partnership with the festival, handed out two awards to films that had screened in its showcase of seven international feature documentaries.
The Grand Prix Semaine de la Critique was presented to The Balcony Movie by Poland's Pawel Losinski, while the Premio Zonta Club Locarno - for a film with the best expression of social commitment - went to the Finnish-Danish co-production How To Kill A Cloud by Tuija Halttunen, which is being handled internationally by Rise and Shine World Sales.
A third prize - the Marco Zucchi Award, in memory of the Semaine's delegate-general who passed away last year - was awarded to Saeed Taji Farouky's A Thousand Fires which is described as "a tale of family, oil, and life cycles in Myanmar's hand-drilled oil fields".
International guests attending the first edition of the festival under the new artistic director Giona A. Nazzaro included Laetitia Casta, Gale Anne Hurd, Yuka Saito, Abel Ferrara, Melissa Leo, Ross Lipman, Phil Tippett, John and Deborah Landis, and Ferdinando Cito Filomarino, who opened the festival with his first English-language Beckett on August 4, alongside the film's stars John David Washington and Vicky Krieps.
During this year's festival, discussion began in earnest on the possible candidates to succeed Locarno's 77-year-old president Marco Solari in the future. Among the names mentioned are Carla Speziali, Locarno's former mayor and a member of the festival's board of directors and president of the Palacinema; Patrizia Pesenti, a member of the board of directors at Credit Suisse; and local politician Filippo Lombardi.