Feature, documentary, VR, TV projects set for Venice industry strand.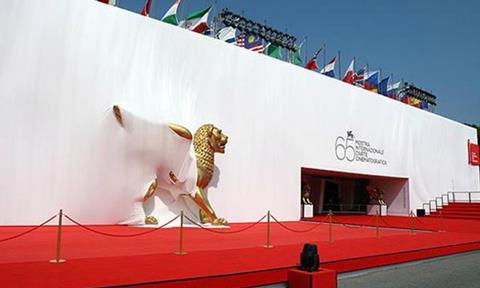 Venice Film Festival industry strand Venice Production Bridge has confirmed the 47 projects that will take part in this year's edition of the Gap-Financing Market (September 1-3).
Now in its fourth year, the market will welcome 25 feature film and documentary projects, 15 virtual reality, interactive, web and TV projects, as well as seven VR projects from previous editions of the talent development lab Biennale College, which are in various stages of development and production.
The teams behind each project will take part in one-ot-one meetings with producers, financiers, distributors, sales agents and further industry attending the Production Bridge.
Full list of projects:
Fiction features (Europe)
All The Pretty Little Horses dir. Michalis Konstantatos (Greece, Germany, Netherlands), Horsefly Productions
Bodyguard Of Lies dir. Charles Matthau (Spain, United States), Babieka Films
Brighton 4 dir. Levan Koguashvili (Georgia, Bulgaria, Greece), Kino Iberica
Cook, Fuck, Kill dir. Mira Fornay (Czech Republic, Slovakia), Cineart TV Prague
Delphine D. dir. Lara Fremder (Italy), Falest Film
The Dream Girl dir. Maurizio Braucci (Italy, Ireland, Belgium, UK), Mir Cinematografica
The Guest dir. Duccio Chiarini (Italy, Switzerland, France), Mood Film
The Veins Of The World dir. Byambasuren Davaa (Germany, Mongolia), Basis Berlin Film Produktion
Fiction feature (outside of Europe)
Fig Tree dir. Alamork Marsha Davidian (Israel, Germany, France), Black Sheep Film Production
Inzomnia dir. Luis Tellez Ibarra (Mexico), Inzomnia Animación
Irene dir. Celina Murga (Argentina), Tresmilmundos Cine & Cepa Audiovisual
Rafiki dir. Wanuri Kahiu (South Africa, Germany, France, Netherlands, Lebanon, Norway, Kenya), Big World Cinema
Road Kill dir. Yuichi Hibi (United States), DViant Films
Shan Shui dir. Xiao Yong (China), Way Good Entertainment
The Day I Lost My Shadow dir. Soudade Kaadan (Lebanon, France), KAF Productions
The Reports On Sarah And Saleem dir. Muayad Alayan (Palestine, Netherlands, Germany, Mexico), PalCine Productions
The Science Of Fictions dir. Yosep Anggi Noen (Indonesia), Angka Fortuna Sinema
Documentaries (Europe)
Cassandro, The Exotico dir. Marie Losier (France, Guatemala), Tamara Films
Mitra dir. Jorge Leòn (Belgium, France), Thank You and Good Night Productions
Story Of B, The Disappearance Of My Mother dir. Beniamino Barrese (Italy), Nanof
The Hidden City dir. Victor Moreno (Spain, France), El Viaje Producciones
The Village dir. Claire Simon (France), Petit à Petit Production
What Walaa Wants dir. Christy Garland (Denmark, Canada), Final Cut for Real
When The War Comes dir. Jan Gebert (Czech Republic), Pink Productions
Documentaries (outside of Europe)
Bisbee '17 dir. Robert Greene (United States), 4th Row Films
Virtual reality projects
7 Lives dir. Jan Kounen (France), Red Corner
Amrita dir. Rithy Panh (France, Cambodia, Netherlands, Germany), CDP
Bloody Sunday dir. Andrius Lekavicius (Lithuania), Gluk Media
Escape Vroom dir. Sean O'Reilly (Canada), Arcana Studios
Kinshasa Now dir. Marc-Henri Wajnberg (Belgium, Congo), Wajnbrosse Productions
Lights dir. Julien Mokrani (France), Okio-Studio
Melita Part 2 dir. Nicolas Alcala (United States), Future Lighthouse
Passenger dir. Romain Chassaing (France), Haut et Court
Tornado dir. Guy Shelmerdine (United States), Dark Corner
Whitehats dir. Ricard Gras (Germany), Ricard Gras
TV and web series
Father's Day dir. Pavel Vesnakov (Bulgaria), Agitprop
The Red Virgin dir. Paula Ortiz (Spain), Avalon
Narcoamerica dir. Danny Gavidia (Mexico), Albricias Producción
Of A Different Nature dir. Mamdooh Afdile and Tone Andersen (Norway), Klar Film AS
Trauma dir. Miłosz Sakowski and Agnieszka Smoczyńska (Poland), Telemark Sp. Z o.o.
Biennale College virtual reality projects
A Day With Hope dir. E. del Mundo (USA, Philippines), VRSmile
Ice Cave dir. Maja Friis (Denmark), Makropol
My Girl Matryoshka dir. Nir Saar (Israel, UK), Independent
ON/OFF dir. Camille Duvelleroy (France), Bachibouzouk
Spomenik dir. Ivan Knezevic (Serbia), Black Box
The Little Black Pawn dir. Quentin de Cagny (France), French Touch Records
The Neighbour dir. Rudolf Romero Borgart (Netherlands), Rots Filmwerk