A total of 18 VR experiences will compete in the strand.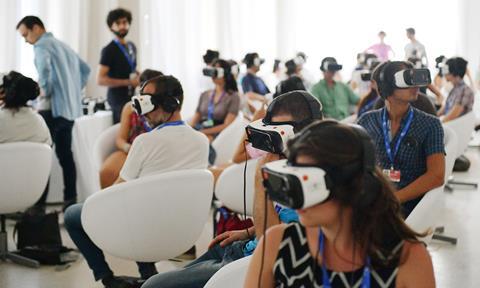 This year's Venice International Film Festival (Aug 30 - Sept 9) will for the first time include a competition for virtual reality (VR) films.
Venice Virtual Reality will programme up to 18 VR films and will run at the festival August 31 – September 5 at the VR theatre in the Palazzo del Casino on the Lido.
The line-up is expected to be made up of predominantly short and medium length films.
A jury will award three prizes: best VR film, a VR grand jury prize, and a best VR creativity award.
The festival has moved to embrace VR in recent years. In 2016, Venice hosted a preview of Jesus VR, which was touted as the first feature-length VR film.
Venice is also working with VR through its Biennale College, nine of whose director-producer teams are developing VR projects.
Two of those projects will be given production grants of €30,000 (contributed by Sony) and will be presented at the Venice Film Festival in 2017.
The remaining seven will participate in the Venice Production Bridge's gap financing market.
An additional eight VR projects in advanced stages of development will also feature in Venice's market.