The Venice Film Festival has unveiled the nine projects that will participate in the second edition of the Biennale College – Cinema Virtual Reality initiative.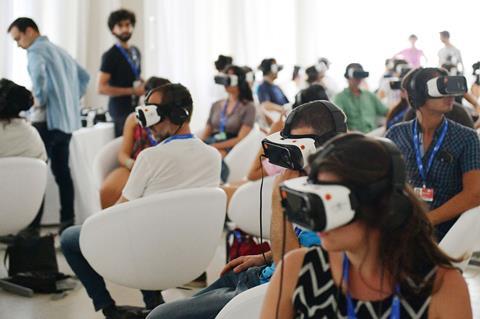 The project teams, which were selected by Venice director Alberto Barbera with the assistance of the Biennale College Cinema VR team, will take part in a seven-day workshop in Venice which commences tomorrow (Jan 13).
Following the initial workshop, the crop will be whittled down to a maximum of three teams that will go on to develop and produce a virtual reality projects up to 30 minutes in length.
The Biennale College will provide up to €60,000 (supported by Sony) to each of the selected finalists, which upon completion will be presented at the 2018 edition of the Venice International Film Festival (September 2-12).
Of the nine projects, three are from France, two from Italy (including one co-pro with France), and there is one apiece from Russia, India, Argentina, and Brazil-China.
The nine projects are:
In The Cave (Italy) - Ivan Gergolet (director) Antonio Giacomin (producer)
Psychopompos (Italy/ France) - Giulia Olivieri (director) Fabrizio Polpettini (producer)
Meet Mortaza (France) - Josephine Derobe (director) Oriane Hurard (producer)
VRtigo (France) - Marc Guidoni (director) Joanna Szybist (producer)
Pierre Gagnaire - Destiny (France) - Andrés Jarach (director) Arnaud Colinart (producer)
Lightspeed VR (Russia) - Anton Outkine (director) Sergey Kornikhin (producer)
A City of Foxes (India) - Nihaarika Negi (director) Ishita Gandhi (producer)
4 Feet (Argentina) - Damian Turkieh, Maria Belen Poncio, Gonzalo Sierra (directors) Ezequiel Lenardon(producer)
Deep Clot (Brazil/China) - Mauricio Osaki (director) Aihui Dong (producer)