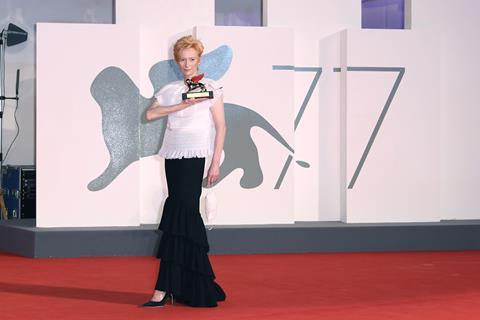 The Venice Film Festival finally officially got underway on Wednesday evening, bringing to an end months of uncertainty over whether it would go ahead against the backdrop of the Covid-19 pandemic.
"Ce l'abbiamo fatta! (We did it!)," declared jury president Cate Blanchett in her opening speech.
"Over the last few months, several months, which seem like years in our isolated bubbles, we've been sustained by streaming images and stories into our living rooms," she said. "But I think there's been a vital component that's been missing and that's back here tonight. It's strangers gathering in the dark in anticipation of a collective experience and event."
She delivered her speech to a masked, socially-distanced audience in Venice's main Sala Grande theatre. Due to the reduced capacity, half the guests watched a livestream of the ceremony in the Sala Darsena theatre next door. In the latter venue, ushers patrolled the aisles, monitoring that guests were keeping their masks on for the duration of the event.
The evening got off to a sombre start with a rendition of the Once Upon A Time In America track 'Deborah's Theme' by late composer Ennio Morricone, who died in July at the age of 91. His son Andrea Morricone conducted the performance by the Roma Sinfonietta.
A total of 63 features are due to premiere this year in Venice, which is the first large-scale film festival since the cinema world was shut down by Covid-19 shortly after the Berlinale in February. The festival kicked off with Daniele Luchetti's family drama Ties which debuted as the opening film out of competition.
Blanchett's jury members comprise Austrian director Veronika Franz, UK filmmaker Joanna Hogg, Italian writer Nicola Lagioia, German director Christian Petzold, French actress Ludivine Sagnier and US actor Matt Dillon. To comply with social distancing rules, they did not join her on the stage but rather waved to the audience from their seats.
Other guests in the audience included actress Tilda Swinton who was feted with a Golden Lion for lifetime achievement. "Cinema simply is my happy place. It's my true motherland. And its fellowship is my heart's family tree," she told the audience on receiving the award.
Slipping in a small tribute to actor Chadwick Boseman, who died last week at the age of 43 after a four-year battle with cancer, Swinton ended her acceptance speech with the catchphrase from his best-known film Black Panther: "Cinema, cinema, cinema. 'Wakanda forever'. Nothing but love."
For the final part of the ceremony, Venice's artistic director Alberto Barbera was joined on stage by European counterparts Thierry Frémaux (Cannes), Lili Hinstin (Locarno), Vanja Kaludjercic (Rotterdam), Karel Och (Karlovy Vary), José Luis Rebordinos (San Sebastian) and Carlo Chatrian (Berlin).
In an unprecedented show of unity from these sometimes rival events, the festival chiefs took it in turns to read out a joint statement emphasising the importance of cinema, their solidarity with all festivals worldwide and the need to support cinema theatres following months of closure due to the pandemic.
"Our thoughts are with our friends and colleagues in London, Busan, New York City, Telluride, Toronto, Melbourne, Tokyo, Mumbai, Mar del Plata, Morelia, Pingyao and many others who could not be here with us tonight. Tonight is the opening night of the Venice Film Festival, and tonight also marks the return of cinema everywhere: Europe, Asia and, in a few days, America too," read the statement.
"During these months, we have all thought of the place cinema occupies in our lives. It is easy to see now and it will always be this way: for us, life in the past was cinema; life in the future will still be cinema. Please help us keep our commitment alive."
The festival enters day two on Thursday with the competition premieres of French director Nicole Garcia's thriller Lovers and Bosnian filmmaker Jasmila Žbanić's drama Que Vadis, Aida?, set against the backdrop of the 1995 Sebrenica massacre.