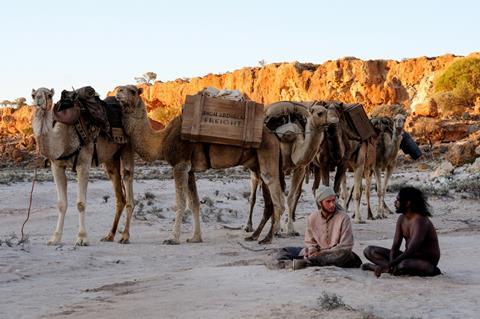 Arclight Films has come on board to represent worldwide sales excluding Australia and New Zealand on Venice Orizzonti selection The Furnace, an Australian adventure story that highlights the little-known history of Afghan cameleers.
Australian writer Roderick MacKay makes his directorial debut on the film starring Ahmed Malek (Clash, Ext. Night), Jay Ryan (Top Of The Lake, It: Chapter 2), and David Wenham (Lion, The Lord Of The Rings franchise).
The Furnace is described as an unlikely hero's tale set during the 1890s gold rush of Western Australia and highlights the forgotten history of the so-called 'Ghan' cameleers, predominantly Muslim and Sikh men from India, Afghanistan, and the Middle East who crossed the country's vast desert interior and formed unique ties with Aboriginal people.
The story centres on a young Afghan cameleer who, in order to escape his own harsh existence and return home, partners with a bushman on the run with two Crown-marked gold bars.
Together the pair must outrun a zealous police sergeant and his posse and reach a hidden furnace where they can remove the mark of the Crown from their booty.
Erik Thomson (The Luminaries), Baykali Ganambarr (The Nightingale), Trevor Jamieson (Storm Boy), Mahesh Jadu (The Witcher) and Samson Coulter (Breath) round out the key cast.
Producers are Timothy White (I Am Mother) and Tenille Kennedy (H Is For Happiness), with Georgia White as co- producer and Gary Bonney as associate producer.
Umbrella Films will distribute The Furnace in Australia and New Zealand.
The film shot late last year in Yamatji Badimia country in Mount Magnet and Yamatji Nanda country in Kalbarri in Western Australia's Mid-West region. The filmmakers consulted with the Badimia community, and liaised with Sikh, Islamic, Cantonese, Pashto, and Punjabi-language consultants.
The Furnace is a Southern Light Films, Meaning Maker and The Koop production, with major production investment from Screen Australia, and is supported through the Western Australian Regional Film Fund through Royalties for Regions, Screenwest, and Lotterywest.
Arclight Films head Gary Hamilton said, "We are excited to partner on such a spectacular and moving film that explores this piece of Australian history that not many people are aware of. With such a fantastic cast and talented crew, we are keen to share Roderick's film with audiences at Venice and around the world."
Writer-Director, MacKay, added, "We set out to shine a light on a crucial yet little-known chapter of Australia's history, celebrating the cultural diversity of our early pioneers. It was so rewarding to work with our talented and diverse cast, in particular our rising Egyptian star, Ahmed Malek, whose heartfelt performance so strongly anchors the story."
Screen Australia's CEO Graeme Mason said, "To have the world premiere of this compelling drama at Venice Film Festival's Orizzonti section is a real coup and doubly impressive for Roderick MacKay's debut feature. We are proud to see The Furnace represent our screen industry on the world stage and showcase a fascinating part of our history alongside the natural beauty of Western Australia."