The Iranian director talks to Screen about capturing contemporary Iranian youth and Tehran in Malaria.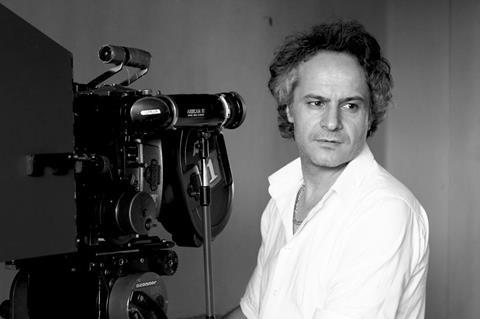 Iranian director Parviz Shahbazi makes his Venice debut with contemporary drama Malaria about two young elopers who find temporary refuge with a bohemian band in Tehran.
Ingeniously piecing the tale together through images found on a lost cell phone, Shahbazi paints an at once joyful and sombre picture of contemporary Tehran and the compromised reality of Iranian youth.
Iranian film and TV star Saed Soheili co-stars as the hot-headed Murry who flees the provinces with his girlfriend Hanna, played by big screen newcomer Saghar Ghanaat, incurring the wrath of her violent father.
Azarakhsh Farahani, brother of Golshifteh Farahani, also features in the cast as Avi, the chaotic leader of an impoverished rock band called Malaria who picks-up the couple as they thumb a lift to Tehran.
It marks the beginning of a youthful adventure, taking the couple into the heart of the bustling city, overshadowed by the darker reality they are attempting to flee.
Malaria is Shahbazi's third work focusing on Iranian youngsters after the 2003 film Deep Breath - a drama about two young dropouts that premiered at Cannes Directors' Fortnight - and the 2013 thriller Trapped, revolving around two female flatmates.
It world premieres today [Friday] in the final days of the Venice's Horizons programme. Shahbazi spoke to Screen ahead of the screening.
What was the inspiration for this tale of young love on the run? Is it based on true facts?
I've been making films about Iranian youth for 13 years. This work follows on from my previous films Deep Breath and Trapped, which are also about Iranian youngsters. I live with the youngsters, keep track of them and focus on their behaviour. My inspiration is the society around me, some of the details that you see in this film came from real personalities and lives.
Does Malaria really exist?
I created the band. It doesn't exist but there are lots of bands created by young, educated musicians in Iran. Unfortunately, they have a hard time surviving, due to social and economic problems as well as the limitations that they face in Iran.
How did you cast the film?
All the actors are amateur except the guy who plays Murry. I held a huge audition. Azarakhsh Farahani is the brother of Golshifteh Farahani, the famous Iranian actress. I'd been thinking about a role for Azarakhsh for a while.
In a similar vein to Jafar Panahi's Taxi Tehran, a vehicle - the band's old car - is a key setting for the story, is that because it's easier to shoot Tehran in that way?
No, it was really linked to the story elements and the fact the band owns a car. I've used car shots quite a bit in my past films. The idea of using a car as a key location really belongs to the great filmmaker Abbas Kiarostami as seen in his films Taste Of Cherry or Ten.
How easy was it shoot on the streets of Tehran?
It was not an easy film. I shot it over three months with a huge professional crew. Our cinematographer used four different cameras with four different abilities to shoot film. I mean he didn't use all of them at the same time. For example, we changed the camera for the cell-phone shots or the steadicam shots.
One of the scenes is set against the street celebrations marking the nuclear agreement between Iran and world powers in July 2015. Did it come about by chance?
In pre-production, we predicted that it might happen and that people would celebrate in the streets. We created a space in the story and waited for it to happen. Politicians kept negotiating without considering our tight shooting schedule! We were lucky that it happened just before shooting wrapped.
Malaria feels like a love letter to Tehran and its inhabitants. It's reminiscent of the way Federico Fellini captured Rome. Was that a conscious decision?
I'm glad to hear that. I like it when the feelings of a filmmaker are perceived by someone else. Yes, it is an affectionate portrait of Tehran, which is changing every day but still has its particular character and beauty. Iranian critic Kamiyar Mohsenin also mentioned Fellini.
Will the film be distributed in Iran?
We've had some censorship issues but hopefully it will be screened.