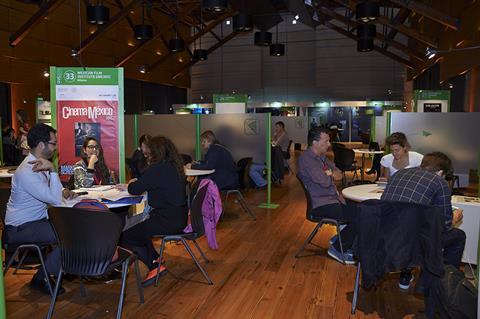 The second round of Blood Window pitches at Ventana Sur on Thursday (13) included an Argentine film about a vampire hunter, a Uruguayan film about an evil doppelganger, and an India story about a nightmare train journey.
The session complemented Wednesday's pitches and the winners will be announced on Friday (14).
Vurdalak Blood (Argentina) from director Santiago Fernandez Calvete and producer Roxana Ramos won INCAA's National Feature Films Contest and is an adaptation of Aleksey Tolstoy's gothic novella The Family Of The Vourdalak and follows a vampire hunter whose daughter discovers he has become the very thing he hunts.
The filmmakers have secured 60% of the $325,000 budget and are looking for co-productions partners or a sales agent.
Chilean director Paz Goody and producer Vicente Torga Mellado presented Condemned (Chile), about a couple stranded after a car accident who take refuge at the home of an old lady who harbours sinister intentions.
The project has secured 20% of the $750,000 budget and received the Blood Window-Dirac Award. The filmmakers are looking for completion funds through investors, co-producers, and pre-sales.
Mexico's Estanislao from director Alejandro Guzman Alvarez and producer Marianna Monroy uses a dreamlike atmosphere to recount the story of a deceitful, out-of-work 40-year-old who torments his widower step-father with a strange beast.
Paradoxa (Uruguay) by director-producers Marco Bentancor and Alejandro Rocchi takes place as a supernatural doppelganger emerges from a jilted man's body after a lightning strike, just as his ex-girlfriend tries to help him.
Exquisite Corpse (Argentina) by director Lucia Vassallo and producer Nicolas Munzel Camańo follows a grieving woman who attempts to possess her recently deceased girlfriend. Lightless (Mexico) from director Jorge Leyva Robles and producer Lilia Velazco Valle is about a teenage girl who finds an amulet on the dark web that she believes will transform her into a vampire.
The session included: Secretas The Yellow Book (Argentina) from directors Sebastian Ramirez and Juan Manuel Pendola and producer Nathalia Peluso, about a sound recordist whose dead sister reaches out to her; Shadowplay (Chile) from director Felipe Eluti and producer Daniel Vivanco about a couple who miscarry and travel to a family home that houses a dark secret; psychological thriller 9 Steps (Spain) from director Marisa Crespo and producer Moises Romera; Bogie No. S4 (India) about a nightmare train journey, from director Vishal Furia and producers Saugat Bhattacharya and Yogesh Karikurve; and Party (Spain) from director Ruben Montero and producer Aritz Cirbian, about a hedonistic trip gone wrong.