Distributor sets December release for whistleblower biopic.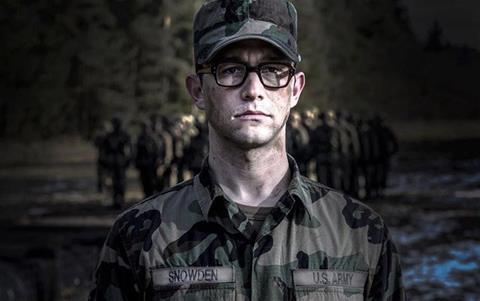 London-based distributor Vertigo Releasing has struck a deal with sales agent Wild Bunch for UK rights to Oliver Stone's biopic of NSA whistleblower Edward Snowden.
The company has set a December release for Snowden, which stars Joseph Gordon-Levitt in the titular role alongside Shailene Woodley (Divergent) and Zachary Quinto (Star Trek).
The film's UK release is expected to be around 150 sites.
Snowden premiered at Toronto International Film Festival and also played Zurich Film Festival and BFI London Film Festival.
Multi Oscar-winner Stone directed and co-wrote the screenplay with Kieran Fitzgerald (The Homesman). It was based on two books: The Snowden Files by Luke Harding, and Time of the Octopus by Anatoly Kucherena.
Producers are Moritz Borman, Eric Kopeloff, Philip Schulz-Deyle and Fernando Sulichin.
Vertigo's MD Rupert Preston said: "We are thrilled to be releasing this powerful and important film in the UK by legendary filmmaker Oliver Stone."
Carole Baraton from Wild Bunch added: "We are happy to be partnering with Vertigo to release Snowden in the UK, the country where it all started! Vertigo is the ideal company to release the movie since they have proved they can combine the firepower of a strong distribution company with the tailor-made service of a boutique."