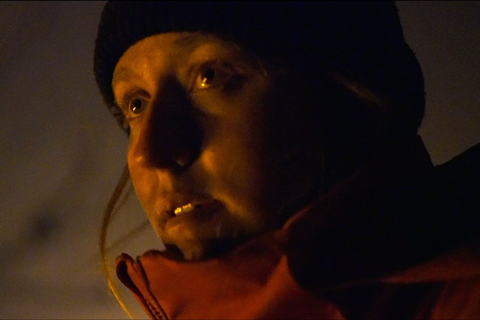 The Visions du Reel film festival has unveiled the first titles for its 2023 edition, set to run April 21-30.
The documentary festival, based in Nyon, Switzerland, will open with the world premiere of French director Juliette de Marcillac's feature debut Nightwatchers. Filmed at high-end ski resort Montgenèvre on the French-Italian border, it tells the story of volunteers trying to help migrants, and the authorities trying to catch them.
The film is part of the Grand Angle competition, with 12 titles competing for the audience award worth CHF 10,000 ($10,925).
The section includes two further world premieres; Pieter Van Eecke's Planet B, about activist group Extinction Rebellion; and Behind The Lines by Syrian filmmakers Alisar Hasan and Alaa Amer, about Idlib's first female cartoonist and featuring animation and live action footage.
Among the section's Swiss premieres Tatiana Huezo's The Echo, which won best directior in the Encounters section at this year's Berlinale.
The non-competitive Highlights section presents 11 Swiss premieres including Paul B. Preciado's first feature film, Orlando, My Political Biography, which also won a Berlin Encounters award; and Claire Simon's Notre Corps, described as a political ode to the female body.
The section also includes Cyrielle Raingou's Le Spectre de Boko Haram, which won the International Film Festival Rotterdam's top prize, the Tiger award, earlier this year.
As previously announced, Alice Rohrwacher and Lucrecia Martel will appear as special guests at the festival.
The full Festival programme will be announced on March 28.
Grand Angle

After Wor (Swe-It-Nor)
Dir. Erik Gandini
Against the Tide (Fr-Ind)
Dir. Sarvnik Kaur
Behind the Lines* (Bel-Fr-Ger-Lux)
Dirs. Alisar Hasan, Alaa Amer
Eat Bitter (Central African Republic-China)
Dirs. Pascale Appora-Gnekindy, Ningyi Sun
Fantastic Machine (Swe-Den)
Dirs. Axel Danielson, Maximilien Van Aertryck
Nightwatchers* (Fr)
Dir. Juliette De Marcillac,
Paradise (Fr-Switz)
Dir. Alexander Abaturov
Pianoforte (Pol)
Dir. Jakub Piątek
Planet B* (Bel-Hol)
Dir. Pieter Van Eecke
She Chef (Ger-Austria)
Dirs. Melanie Liehheit, Gereon Wetzel
The Echo (Mex)
Dir. Tatiana Huezo
The Mountains (Den)
Dir. Christian Einshøj
Highlights
Apolonia Apolonia (Den-Pol-Fr)
Dir. Lea Glob
Ciné-Guerrillas: Scenes from the Labudović Reels (Fr-Ser)
Dir. Mila Turajlić
Le Spectre de Boko Haram (Cam-Fr)
Dir. Cyrielle Raingou
Love Is Not an Orange (Bel-Fr-Hol-Moldova)
Dir. Otilia Babara
My Worst Enemy (Fr-Switz)
Dir. Mehran Tamadon
Notre corps (Fr)
Dir. Claire Simon
Orlando, My Political Biography (Fr)
Dir. Paul B. Preciado
Theater of Violence (Den-Ger)
Dirs. Emil Langballe, Lukasz Konopa
The Last Year of Darkness (US-China)
Dir. Ben Mullinkosson
Vera (Austria)
Dirs. Tizza Covi, Rainer Frimmel
When Spring Came to Bucha (Ger)
Dirs. Marcus Lenz, Mila Teshaieva