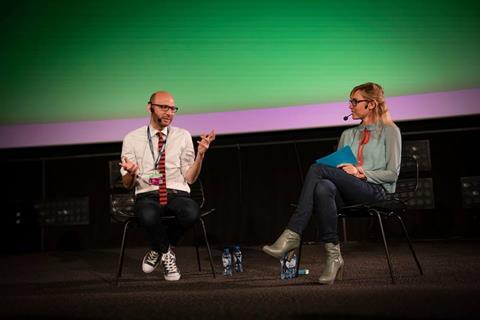 Walter Iuzzolino of curated international VOD platform Walter Presents has concerns about how the streaming giants like Netflix and Amazon are flooding the market with too much money and not enough distinctive programmes.
"There is money coming in, which is great but there is risk associated with that because there is an overwhelming amount of product on the shelves," the Italy-born, UK-based Iuzzolino said at Connext in Ghent. "While it is a golden era for international drama, as a curator I just see too many titles and they are these premium, globally-conceived titles that are actually quite culturally non-distinctive. That is a worry for me."
The high-end drama gold rush means the streaming giants look at the success of something like The Bridge and then order 20 lookalikes. "While competition is always a good thing, it's creating a strange tension in the environment. All the money that has poured into this market has not created stunningly distinctive HBO-style programming I don't think."
He continued: "Everybody wants to conquer the world so you need something from that country to facilitate subscription growth in that country but it doesn't feel yet like there is a cohesive, creative and editorial strategy. But that is the nature of a supermarket – they can't have an editorial strategy, they need to give you anything."
Iuzzolino said terrestrial TV still has a place, although it is under threat. "The crisis in my mind and where the ecosystem is under pressure is that the terrestrial broadcasters, whether they are commercial or publicly funded, are still the most interesting gatekeepers of an editorial take on things. They are like museums which is why I love them but they are crumbling sometimes. Their ceilings need repairing and they leak when it's raining but they still have the Rembrandts in there and the curators that understand the Rembrandts."
Can Walter Presents move into production, like the bigger streaming companies? "I would very much like to but we haven't got enough money. We're not Disney. As we grow and launch into more territories, we will definitely be able to start deficit funding a bit more, so that the contribution we can put up front when you're in 10 territories is more significant."
The opposite of algorithms
Iuzzolino has become well-known for his impeccable personal taste in non-English-language TV series.
The former TV producer launched Walter Presents in the UK in 2016, a free service on Channel 4's All4 platform, in partnership with his own company Global Series Network. The US offering is a direct-to-consumer SVoD service (in a broadcast partnership announced in September with PBS's Masterpiece Channel, which is available through Amazon Prime). More international deals have followed with Foxtel in Australia and Discovery in Italy.
That growing global empire is still personally curated – Iuzzolino watches about three shows or five hours of TV per day "but often just for pleasure," he noted in his Connext talk, moderated by TV showrunner and writer Malin-Sarah Gozin. He also has deep relationships with writers and producers and is able to meet with creators at early stages of development.
He often does personal introductory videos to entice viewers. "You're a curator so you develop a relationship with your customers," he explained.
"What they [Channel 4] saw [the brand of] Walter Presents being was the complete opposite of Netflix and Amazon and an algorithm-driven recommendation system. They wanted to create almost an old-fashioned thing where you build a relationship based on trust [with the audience]."
"The idea was to be small and personalised and there's no algorithm or research that goes into the editorial choice."
He added: "Think about all the marketing in the world and actually what's stronger than a friend of yours saying, 'Read this book' or 'Go see that movie'."
He doesn't want his selections to be too arty or elitist. One of his criteria is how well a show has performed in its own market. "I want to understand what speaks to an audience in each country."
Right now, crime thrillers from northern Europe and Spain are doing particularly well on the service. Flemish crime thriller 13 Commandments is the biggest hit of 2018, and unusually it was launched on Walter Presents before its local broadcast in Belgium.
But it can't just be crime; the current Walter Presents slate in the UK spans 29 series from 16 different countries. "We can't have 100 crime thrillers and therefore it's crucial that we keep the Israeli romantic comedy or the quirky show from the Czech Republic because that's the only way people will discover them."