UPDATE: Dalian Wanda chairman Wang Jianlin on Monday evening announced what has been called "China's first internationally competitive incentives programme" and unveiled further details of the Wanda Studios Qingdao project as part of an $8.2bn complex under construction in China.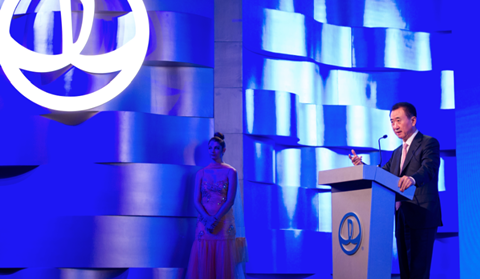 Speaking to a packed audience of studio executives and Hollywood agents at the US-Sino Business Evening at Los Angeles County Museum Of Art, Wang called for closer cultural and business ties between the US and China, whom he said had much to learn from one another.
Wang, whose company's aggressive corporate buying spree in the US has prompted members of US Congress to call for a government review into foreign ownership of US entities, echoed similar comments about collaboration made earlier in the ceremony by Los Angeles Mayor Eric Garcetti and Academy president Cheryl Boone Isaacs.
He also addressed the concerns of US politicians when he said if Hollywood wanted to share in the growth of the Chinese market it needed to include Chinese elements that took the taste of local film-goers into consideration. "Some politicians in the US are demanding for films to be 'politically independent', but such a view is against the common sense of business. That is why my point is that 'business is business'. We better not make it political."
The incentive, created by Wanda Group and the Qingdao municipal government, will offer up to a 40% cash rebate for qualifying expenditure in the Qingdao region in the east of China by eligible Chinese and international participants. It draws from a $750m (5bn CNY) film and TV development fund allocated over the next five years.
Studio
Already confirmed to shoot at the studio are the next instalments of Godzilla and Pacific Rim from Wanda-owned Legendary Entertainment, as well as projects from Lionsgate with China Media Capital-backed Infinity Pictures, Arad Productions, Gary Hamilton's Arclight Films, Kylin Pictures, Base Media, Beijing Dirty Monkey Culture Industry Development and Juben Pictures.
Wanda Studios Qingdao will be housed within the $8.2bn 408-acre mixed-used Qingdao Movie Metropolis, a sprawling complex designed in consultation with Pinewood Studios in the UK that is scheduled to open for business in 2018.
According to a short film narrated by Matt Damon, who recently shot The Great Wall for Legendary, the complex will include a convention centre, six resorts, four indoor theme parks, an international school and a hopsital, and a cinema with 30 auditoriums and 5,300 seats that will rank as the largest in Asia.
Studio facilities will include 30 sound stages including the world's largest at more than 107,000 sq ft, a permanently heated underwater stage, and a 221-acre backlot.
The suite of services offered by Wanda Studios will include assistance with language, logistics, location scouting, permitting, banking, payroll, customs and visas.
For the purposes of the rebate, which Wanda Cultural Industry Group senior vice-president and CEO of international investments and operations Jack Gao outlined briefly, qualifying expenditure include and are not limited to backlot and stage rental, set construction, equipment rental, accommodations, transportation and post-production.
Growth
Separately, it emerged that effects giant Digital Domain is exploring ways to establish its first motion capture stage in Asia at Wanda Studios Qingdao.
"Wanda Studios and [Qingdao Movie Metropolis] lay the groundwork for a unified and streamlined global production community, and we are pleased to leverage our platform and significant infrastructure in China on behalf of our partners in the US and abroad," said Wang.
Wang also used the ceremony, which was sandwiched by foreboding theme music from Inception and a rousing medley of US musical standards, to utter a few observations about the film business.
He predicted Chinese box office would reach Hollywood's current $10bn levels by 2018 and surge to three times that amount by 2026.
The Wanda chief said the recent high growth rate of his country's film industry was a bubble — inflated by a large influx of investment and the online ticket vendor rebate — that was decelerating to a more sustainable 10-15% rate of annual growth. He attributed part of China's summer box office slump to the end this year of the e-commerce subsidy.
While he welcomed strong US-Chinese ties, he warned against short-sighted partnerships aimed at making a quick buck and raised laughter from the audience when he expressed hope that rich story-telling would prevail.
"The Chinese film industry is like a student, and Hollywood is our teacher," he said. "How can a student instruct a teacher on how to improve? Hollywood is famous for its storytelling techniques. In the past, I've watched many great Hollywood films, with very compelling stories with unpredictable, exciting endings. However, in recent years, Hollywood's capabilities for innovation are fading, possibly due to financial constraints or a number of other reasons.

"Many films are just sequels based on original intellectual properties. It isn't unheard of to make five or six, or even nine or ten sequels. Hollywood sometimes relies more on technology and visual factors, rather than a good story. Hollywood, which is famous for its storytelling, apparently is not as good as it used to be in telling stories, which has contributed to its films' decreased success in the Chinese market in recent years.
"Those sequels might have worked before, but Chinese audiences are more sophisticated now. If you want to participate in the growing Chinese market, you must improve film quality and be a good storyteller."
Wanda's US acquisitions include AMC Theatres and Legendary Entertainment, while it recently signed a strategic marketing and co-financing alliance with Sony Pictures Entertainment. The company also owns Odeon and UCI in Europe, and Hoyts in Australia.
Qingdao is the largest city in the eastern Chinese province of Shandong and is located roughly 400 miles southeast of Beijing and 450 miles north of Shanghai. Greater Qingdao has a population of roughly 9million people.