JUNE 13 UPDATE: Legendary-Universal's video game adaptation takes over international box office with $185.9m weekend; Warner Bros' The Conjuring 2 scares up $50m bow from 44 markets.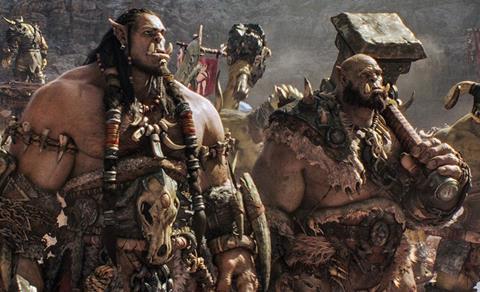 UNIVERSAL PICTURES INTERNATIONAL
UPDATE: Thanks to its staggering Chinese debut, Warcraft led the international box office with an estimated $185.9m weekend in its 52 territories.
Legendary-Universal's video game adaptation marched into China with a record-breaking five-day opening of $156.1m, including the best ever IMAX weekend with $20m from 292 screens at a huge $68k per screen that broke several daily IMAX records.
From its 51 Universal territories, Warcraft took $29.9m for $107.5m with the weekend seeing it top the chart in Taiwan ($2.7m) and Hong Kong ($1.3m). South Korea provided the best new opening with $5.1m.
Overall, the film now stands at $304.5m as of Monday [June 13]. Dalian Wanda-owned Legendary is distributing Warcraft in China.
Neighbors 2 partied to an extra $1.2m from its 44 territories for $42.9m, while an $842k opening in the UK saw The Boss add $886k from its ten territories for $13.8m.
Central Intelligence opens in 22 international territories, including Germany and Sweden, next weekend alongside its North American release.
WARNER BROS PICTURES INTERNATIONAL
UPDATE: The Conjuring 2 scared up a terrific $51.5m on its overseas bow in 44 markets.
Recording the biggest opening weekend ever for a horror film in 30 markets, the New Line sequel is expected to be the number one film internationally outside of China.
Mexico led the way with an outstanding $9m for a 65% share of the top five, followed by Brazil with a chart-topping $4.1m, South Korea on $4m, India with $3.9m and Indonesia with $3m.
The Conjuring 2 creeps into Germany, Russia, the UK and Spain next weekend, followed by Italy on June 23 and France on June 29.
Ahead of its openings in Australia and Brazil next weekend, Me Before You grossed $5.4m from its 17 markets for $18.8m to date overseas.
The UK led the way as it defied the kick-off of the Euro 2016 football tournament with a $2.1m second weekend for $6.5m to date, while Norway also held onto the top spot with $540k for $2m. South Korea added $889k for a local tally of $3.5m.
FOX INTERNATIONAL
UPDATE: X-Men: Apocalypse enjoyed a $24.4m weekend from its 80 markets for $341.5m to date, ahead of its Japanese release in August.
The latest X-Men offering added $14.3m for $95.9m so far in China (tracking ahead of Days Of Future Past at the same stage), while it fell 41% in France on its way to a $1.1m fourth weekend for $14.2m and only 19% in Brazil with $1.1m for $17.5m.
In its final international market, Deadpool fell only 36% in Japan with a $2.3m second weekend for a local tally of $11.4m. Overseas, it now stands at a terrific $414.2m.
Fox International Productions' recent Cannes selection The Wailing has now amassed $47m in South Korea following a $1.1m fifth weekend.
LIONSGATE INTERNATIONAL
UPDATE: Following its Australian debut last weekend, Summit Entertainment's Now You See Me 2 uncovered a $21.2m from its 30 markets for an early $23.9m.
The sequel posted chart-topping openings in the likes of Russia ($5.9m, 23% up on the first film), Taiwan ($2.6m) and Italy ($1.2m), while its $2.3m Brazilian debut was more than 50% up on its predecessor.
It opens next weekend in Sweden, Denmark and Norway, among others.
WALT DISNEY STUDIOS MOTION PICTURES INTERNATIONAL
With no new markets opening, Alice Through The Looking Glass sailed to a further estimated $14.6m from its 44 territories for $151m to date.
China continues to be the sequel's strongest market with $55.7m, with much of Asia, including Japan (July 1) and South Korea (Sept 8), still to release.
The Jungle Book has swung past the $900m mark at the global box office, making it the third biggest release of 2016 in North America, the international arena and worldwide.
Set to take the number one spot in South Korea with a $5.9m debut, the live-action adaptation added an overall estimated $7.5m from its 30 territories for $557.2m overseas and a global haul of $909.8m.
Zootopia and Captain America: Civil War stand at $668.7m and $745.5m overseas, respectively, with worldwide tallies of $1.01bn and $1.14bn.
PARAMOUNT PICTURES INTERNATIONAL
With a $2m bow in Australia, Teenage Mutant Ninja Turtles: Out Of The Shadows sliced to an extra $13.3m from its 44 markets for $55.3m to date.
Mexico was the best of the holdovers with a $1.6m weekend for $7.1m, followed by Russia, which delivered $1.5m for $7.7m, and Venezuela with $1.2m for a local tally of $4.6m.
The sequel lands in Brazil, South Korea, Spain and the Netherlands, among others, next weekend.
SONY PICTURES RELEASING INTERNATIONAL
The Angry Birds Movie has flown past the $200m mark internationally with an estimated $10.4m weekend from its 87 markets for $213.9m to date.
Falling 46% in its fourth weekend, the animation added $2.3m in China for $72m, which makes it the fourth highest grossing animated US film of all time in the market.
The Angry Birds Movie catapults into Italy next weekend.
Opening in Japan with $785k from 180 screens, Money Monster unearthed $5.2m from its 83 markets for $36.2m so far overseas.
Australia led the holdovers with a fall of 33% for a $1.1m second weekend and $3.3m to date, while Germany posted a $450k third weekend for $2.8m to date. It opens in Mexico next weekend.
CJ ENTERTAINMENT
Park Chan-Wook's Cannes title The Handmaiden recorded an estimated $4.8m second weekend in South Korea for $22m to date, according to ComScore.
BLOOM
Currently playing in 22 territories, The Nice Guys shot to a further estimated $3m for $17m overseas to date, according to ComScore.