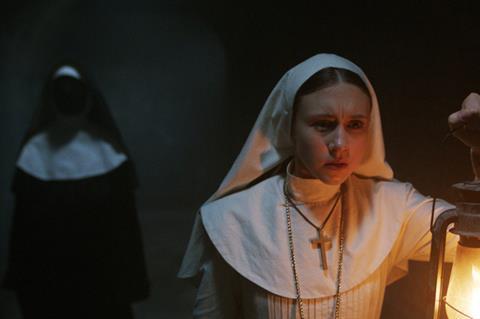 Buoyed by the success of The Nun, Warner Bros has dated Untitled Conjuring Universe Film for September 11, 2020 as it plants a flag in the early September corridor.
New Line horror smash The Nun has amassed more than $330m worldwide and ranks as the highest global and international entry in the Conjuring series after overtaking the $320.4m final global tally of The Conjuring 2 from 2016 and the $319.5m final haul of The Conjuring from 2013.
The hit has set new records for the Conjuring horror franchise in at least 41 territories, among them Germany, Italy, Russia and Japan. The Nun also bears the distinction of becoming the highest grossing horror in at least 12 markets including Brazil, and stands as Warner Bros' biggest release of the year-to-date in many others including Mexico.
Warner Bros has also dated two unspecified New Line horror films for September 10, 2021, and September 9, 2022.
As of October 4, The Nun had grossed $220.2m internationally and $110m in North America. Only The Conjuring has grossed more for the franchise in North America, on $137.4m.
As previously reported, Warner Bros will release New Line's It: Chapter Two on September 6, 2019.