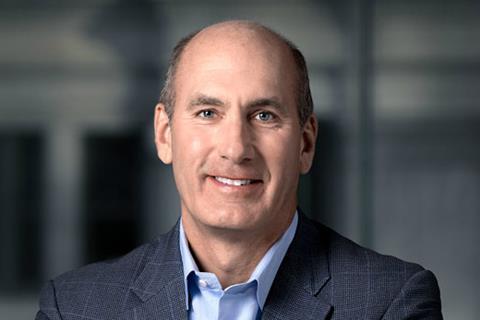 UPDATE: After WarnerMedia CEO John Stankey said the company was "rethinking" the theatrical model in light of the coronavirus pandemic, the media giant clarified its stance last night (22), although there was a public recognition that Christopher Nolan's Tenet might not open on July 17 should theatres remain closed.
The media giant sent out statements to The Hollywood Reporter hours after Stankey made his comments in a conference call with analysts earlier in the day.
"We are committed to – and are excited about – releasing Tenet in theatres this summer or whenever theatres reopen," said Warner Bros CEO Ann Sarnoff. "We remain supportive of the theatrical experience and our exhibition partners, and are confident that our tentpole titles, including Tenet and Wonder Woman 1984 are exactly the type of films that will have people eager to return to theatres."
Stankey added: "Theatrical films have always been a major part of the our ecosystem. I fully expect that as we evaluate our business going forward, we will continue to champion creative work that is worthy of the theatrical experience."
Sarnoff's comments recognised that Nolan's sci-fi tentpole Tenet, dated for July 17, might not open on that date should theatres remain closed due to the outbreak. Wonder Woman 1984 is set to open on August 14.
EARLIER REPORT: WarnerMedia is "re-thinking" its theatrical release model as the media giant plans for the end of the coronavirus pandemic shutdown, according to John Stankey, CEO of the media giant that owns both Warner Bros and the soon-to-launch HBO Max streaming service.
Speaking on a conference call with analysts to discuss parent AT&T's first quarter of 2020 financial results, Stankey (also president and COO of AT&T) said WarnerMedia is "rethinking our theatrical model and looking for ways to accelerate efforts that are consistent with the rapid changes in consumer behaviour from the pandemic."
Warner Bros' plan, announced yesterday, to release animated feature Scoob! direct to home and then as an exclusive streaming premiere on HBO Max is "just one example" of strategies the company is considering, Stankey said. "The theatrical business is a stressed business right now," he added, "and we don't expect that that's going to be a snap-back."
In its results, AT&T estimated that the pandemic cost WarnerMedia $400m in advertising revenue during the first three months of this year and led to another $205m of lost revenue in other divisions.
That led to first quarter revenue for the telecommunications and entertainment conglomerate of $34.2bn, down 2.6% on the first quarter of 2019, and operating income of $8.2bn, up 2.4%.
WarnerMedia revenue was $7.4bn, down 12.2%, and the division's operating income was $1.7bn, down 24.3%.
Among WarnerMedia's individual units, the Warner Bros studio had revenue of $3.2bn, down 7.9% due to declines in theatrical revenues, and operating income of $249m, down 54.5%. Premium cable operation HBO had revenue of $1.5bn, down 0.9%, and operating income of $423m, down 25.4%.
WarnerMedia announced yesterday that HBO Max will make its debut in the US on May 27, though because of the production shutdown caused by the pandemic the service will offer less original content at launch than originally expected.